.
This morning is another gloomy morning. It looks like it wants to be foggy, but it's not too bad at the moment. Yesterday was a beautiful day after the fog cleared up. I took some photos while driving around town. I used my old camera so please excuse the big spot in the middle of them.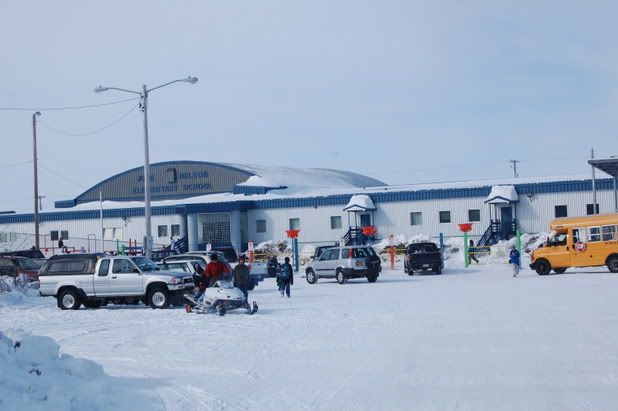 This is the elementary school. I took all these photos while picking up Uyaana from school and going to the post office.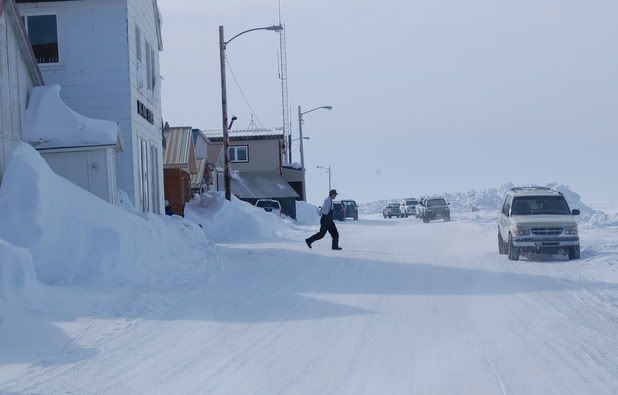 Here is an exciting shot of a guy crossing the street! the building on the left is Rotman's Store and the place in the background with all the cars near it is called the "Eskimo building". It houses the
Kotzebue IRA,
Kotzebue Dog Mushers Association and the Post office.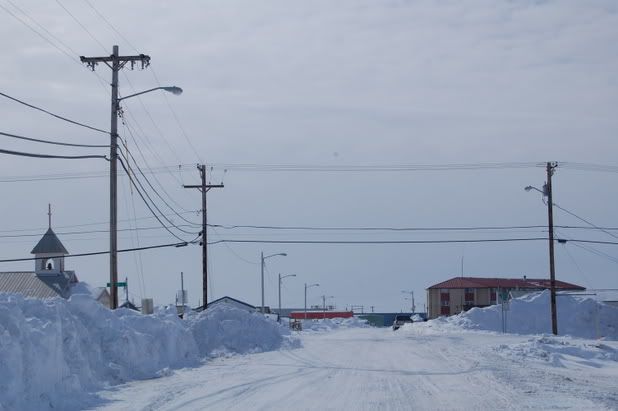 It's difficult to have a view of anything but snowbanks on many of the streets.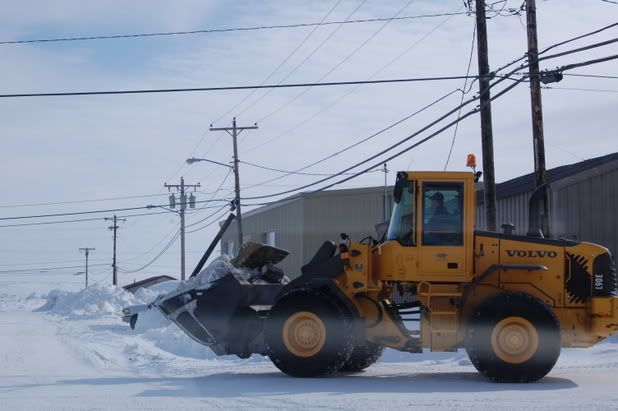 Kotzebue public works has been doing a lot of this lately. They use loaders and dump trucks to scoop up as much snow as they can from in town and then dump it out on the ice. The water from all that melted snow will take forever soak into the gravel. It will just sit there in big giant puddles until it is evaporated by the sun or slowly soaks into the ground. Because of this, all that water has to be pumped out into the ocean. Removing as much snow before it melts makes the pumping job easier.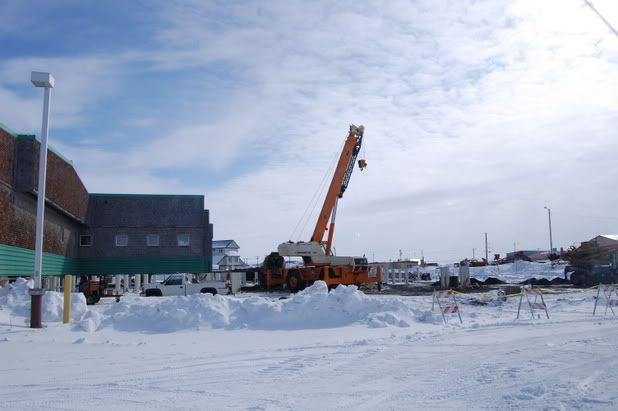 This is the start of a new addition to the hospital. These pilings have to be drilled into the ground while the ground is still frozen. This addition is (I think) going to be a nursing wing. Right now Kotzebue does not have any nursing home for elders who have a high level of care. We do have an assisted living facility but elders who have a higher level of care than that must be sent to nursing homes in Anchorage or Fairbanks. This addition will allow us to keep our elders in our region where they belong.
These guys are digging up the water line. Something happened and water was leaking up to the surface so they have to dig though the frozen solid street to get to the pipes and find the problem.
5th avenue. The orange building on the left is the Alaska Commercial Company Store. Hang on to your wallet.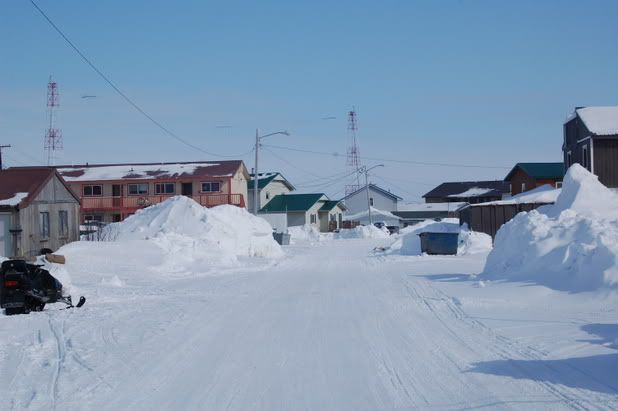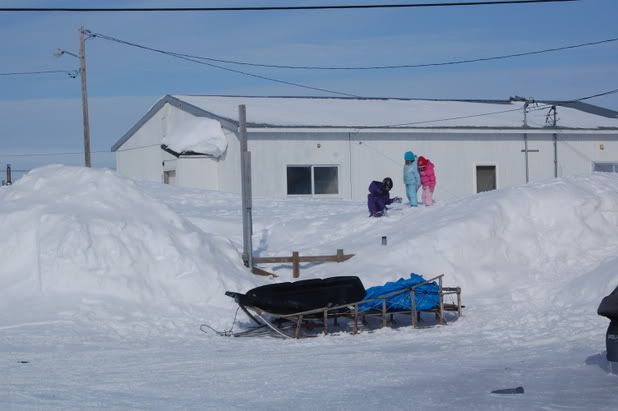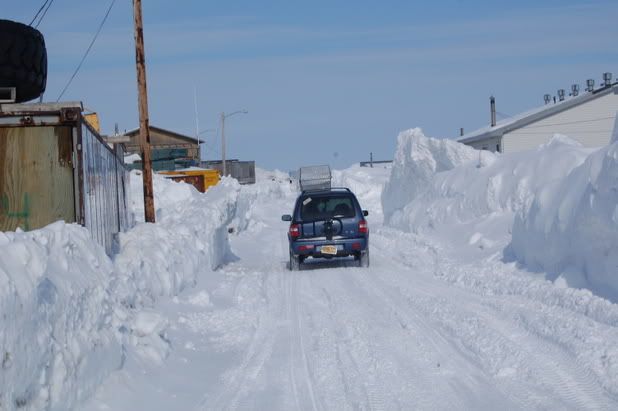 This photo and the one after it were taken in the "uptown" part of Kotzebue. This is the part of town that received the most snow during all those blizzards.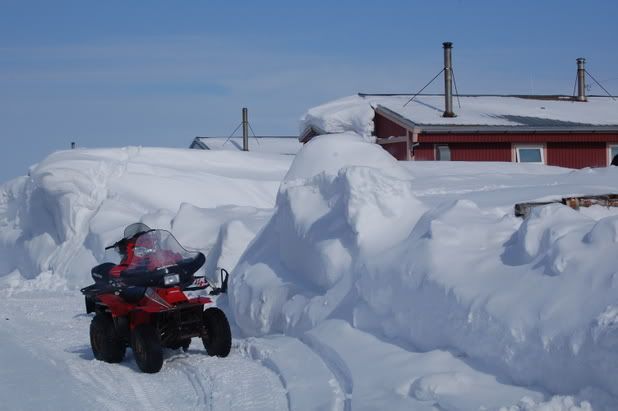 This part of town is still digging out. It's going to be one heck of a mess here in about three or four weeks.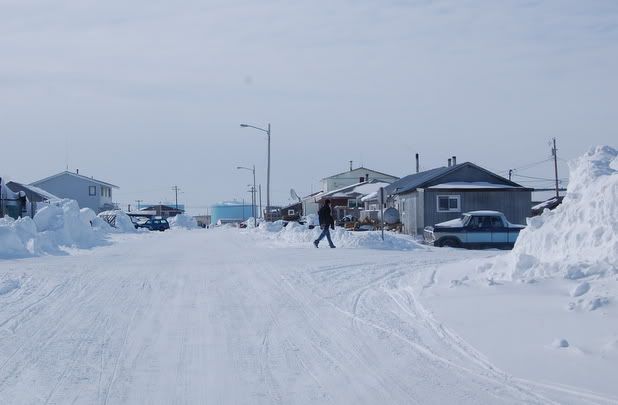 Still looks like winter doesn't it. Spring is sneaky around here.
.