My poor neglected blog. I was starting to get a guilt trip thinking about people coming here and finding nothing new. I left for Anchorage on the 23rd and got back on the 26th. I have been sick since last Saturday. I finally went to the clinic for what I KNOW is a sinus infection. I saw one of the PA's, his name is, I kid you not, Chuck Luck. He gave me some Amoxicillin and what we like to call around here the "Chuck Luck Cocktail" (take 3 Tylenol and 1 ibuprofen every 6 hours). Hopefully it will clear up soon cause I feel like I've been snorting water up my nose.
Anchorage was good, but the weather stunk. I didn't take any pictures because everything was so overcast and ugly looking. I can't stand taking pictures when the weather is like that. It's not even worth the effort of taking them because then I look at them and say yuck to all of them.
I spent A LOT of time in Walmart....... A LOT! I think I get sensory overload in there. We got into ANC about noon. I had to go ever to the Social Security office so I could apply for a new SS card. After that we went over to the 5th avenue mall. What a ZOO! I went into JC Penny and it looked like a bomb went off. All I ended up buying was 2 packages of socks for my son and a New Christmas shirt for him. That was all I could stand, I had to get out of the mall. I was lucky though....as crowded as it was we never got there until after the rush.
I was able to see one movie. We went to see August Rush. It was a very good movie. You should see it if you get a chance. Funny, when I lived in NH and NY I rarely went to the movies. Now I try to go to at least one if there is anything decent playing. I think it's the fact that I can't just go whenever I feel like it. It makes it seem more special I guess. Hahaha....kind of like Walmart. Walmart may not seem like that big of a deal...but when you have to fly 550 miles in a Boeing 737 jet to get there it's a big, fat, hairy deal.
The nutcracker was great. It was the first time I have seen it on stage. It was a joint effort between the Oregon Ballet and the Alaska Dance Theatre. It was very nice. It would have been even better if I hadn't had the luck of sitting behind the only guy in the theatre who was at least 6' 6". This is my interpretation of the view I had for the whole show...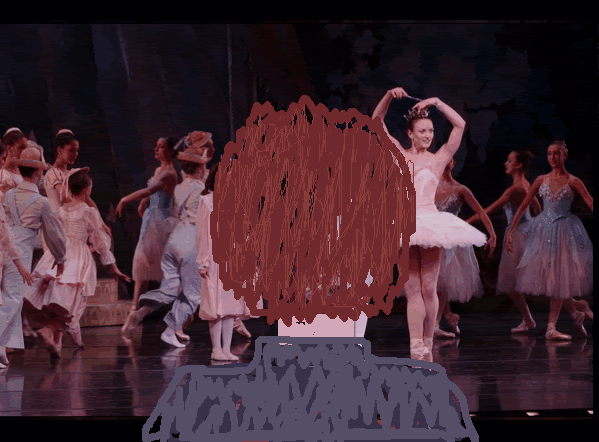 By the end of the performance I had quite the cramp in my neck from trying to look around that guys noggin.
Many of the people were all dressed up in suits and dresses. Little kids with cutsie little outfits and wool coats. And then there were some people who were dressed in jeans, a t shit and a ratty fleece jacket. Hahaha....guess which one I was????. I know of the tradition of wearing your best to theatre and ballet, I expected to see that, but geez, I live in the bush. I don't even own a dress or a skirt. Not even one! I'm certainly not going to buy one just to go to the dang ballet.
My new four wheeler (or ATV as the rest of the planet calls them) came in on Tuesday. I didn't get the Honda. I decided I really wanted another machine with Independent suspension in the front and back like my old Arctic Cat 4 wheeler had. So I went with the Yamaha Big Bear. It's a nice rig. I was so proud of my brand new ride I rode around all day with the dealer tags flapping in the breeze cause I was so proud of it. My friend Kathy called me Minnie Pearl (anyone remember Hee Haw?. Anyway, it looks exactly like this...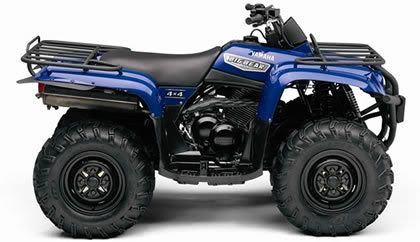 I keep meaning to take pictures of it but we are down to about 6 hours of visible light...5 hours of which looks like dusk. Not enough light for a decent pciture.
So we are in for some warm crappy weather. It has already started. Here's the current conditions.............
Here is what the next few days forecast looks like......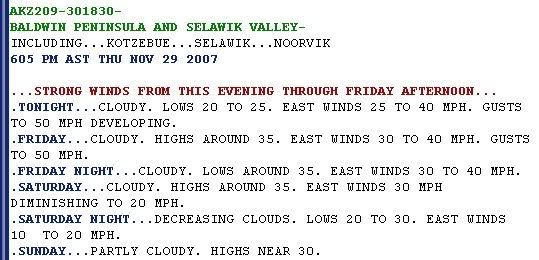 So anyway, that's all that's going on around here.