Yes, this is Alaska....and yes, this is ARCTIC Alaska, but we, like everywhere else, have our typical weather. We pretty much know what to expect. I say this because people like to say "Gee, what do you expect?? You live in the Arctic!" And I think to myself "No shit genius, of this I am aware". But even here, in the arctic, we are allowed to be amazed at the over the top extremes of our already, at times, severe weather. Even for the arctic 7 blizzards in two weeks is not typical. It is certainly not unheard of, but it is NOT typical. It would be like New England getting 6 nor'easters in one month.
On Thursday morning, the 6th blizzard, school was closed, Maniilaq and other businesses closed and the morning Alaska Airlines flight cancelled. Then around 10am the skies cleared and everybody began digging out. The afternoon Alaska Airlines jet, the one that I was on made it in, Maniilaq reopened, and the school called the teachers back into work (so that they could call it an "in service" and therefore not have to make the day up).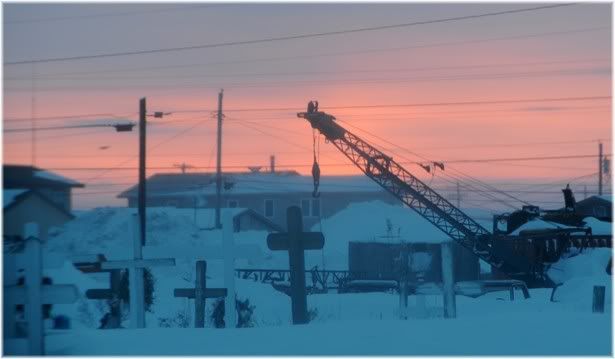 The 7th blizzard, the one that stuck me and many others at work, was no surprise. The morning started relatively calm with a bright pink sky. You know, pink sky in the morning, sailors take warning? The big low pressure system had been forecasted. The problem was (in my opinion, anyone can feel free to correct me if I am wrong), with all the business and school closures that we had in the past 2 weeks, the powers that be seemed reluctant to close up shop. It was like they wanted to wait until they knew that this blizzard REALLY meant it before they sent people scurrying for cover. Well, they waited too long.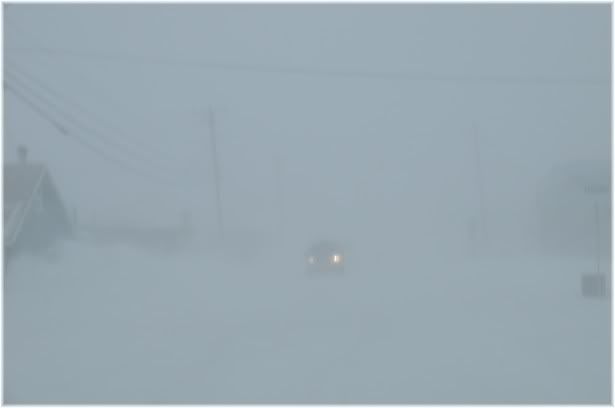 At around 1-1:30pm the school finally closed and they started calling parents to come get kids. By that time the weather was so bad that visibility, according to weatherunderground.com, was already considered "zero".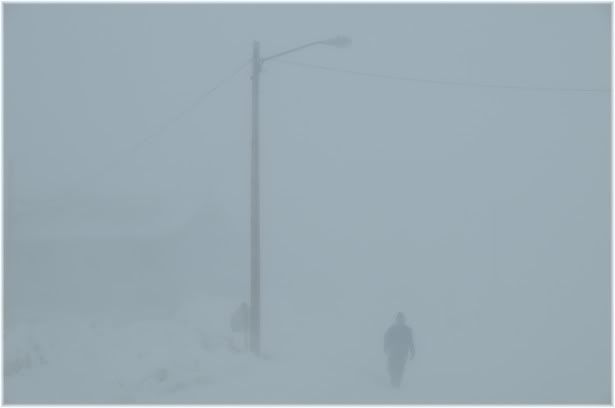 In reality visibility was fluctuating somewhere between 50-100 feet. I was able to get to the school, pick up my mom and my son, and head back to work. Just barely.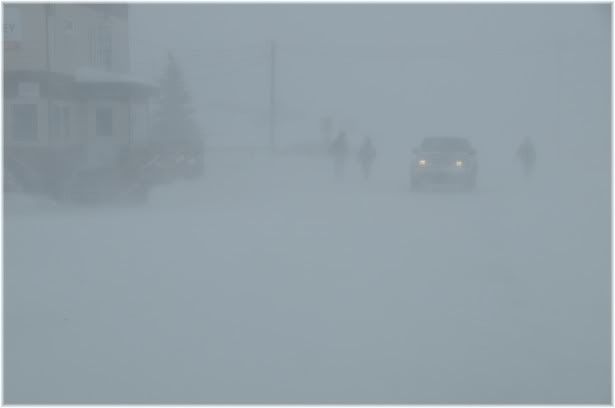 I thought about staying home but I really didn't want to take personal leave for the rest of the afternoon. I went back to work hoping that Maniilaq would close right away.
At around 2pm we got an email saying that we need to park all non essential work vehicles and they would know by 3pm whether or not Maniilaq would close. I was thinking "Gee, what happens at 3pm that is so different from now?". Then around 2:25 pm we get another email telling us to go home. Well thanks, that was a nice thought, but a little too late. By then visibility was, I kid you not, about 5 feet, a situation that is quite dangerous even here in town. Bree and I decided to stay put. Usually there are breaks in the heavy snowfall and you can try to get somewhere quickly. Not this time. By around 4:30pm we were getting concerned that if we wanted to get home it was now or never. We began scrounging around work for all the winter gear we could find and were able to outfit ourselves quite well. I knew that I would not be able to make it the 3/4 of a mile to my house down 3rd ave. There would be too many drifts and with my bum knee I would be doomed. Instead I decided to walk to my friend Kathy's house, about 4 houses upwind. We left work at 4:45 pm. I gave Bree my cell phone because she had farther to walk than me. I hollered to Bree over the howling wind, half jokingly, "Well, it was nice knowing you!" and then we went our separate ways.
I encountered my first obstacle about 30 feet into my walk. There was a 4 foot snow drift with a Honda 4-wheeler (atv) embedded in the opposite side. I tried to climb over the drift but sunk in up past my waist. I was wearing ski pants but I had short wussy North Face boots on and my boots filled with snow freezing my ankles. I figured if I went to the right towards the garage door I might find the short side of the drift and be able to wade through. With some effort I made it thru and found clear road. I knew Madeline's house was next but I could only see it intermittently for a second a time, the wind threatening to topple me over. I followed the tire tracks in the hard packed road, this part hadn't yet drifted over. My face was soaking wet and starting to freeze. At that point I didn't care.
I knew my next goal was the 150 feet to Chip and Cindy's house. I slogged on one step at a time into what I now know was a 64 mph head wind. I could just make out Chip and Cindy's house when I hit a deep snowbank and a gust of wind caught me and made me fall to my knees. Every time I tried to get back up the wind would knock me down. I struggled and bogged down in the almost 4 foot drift. Every breath I tried to take was getting sucked out of my mouth by the wind and I started to panic. I realized that I needed to calm down. I knew the Chip and Cindy's house was 25 feet away, and one way or another I could make that 25 feet, even if it took me a half an hour. Even if I had to I would roll across and through the drift. Then I thought shit, I would hate to have them look out the window and see me thrashing around in that snow drift like a beached friggin' beluga. It was at that point that I realized I wasn't totally in fear for my life yet because if I was I wouldn't be worried about people thinking I looked foolish. I kneeled in the drift for about 4 more minutes waiting to catch my breath, be calm, and wait for a tiny break in the gusts and then stood up and waded the rest of the way through the drift to clear road.
I could not see, my glasses were crusted over with ice. The wind was whipping the snot out of my nose and smearing it down over my chin and the left side of my face. The right side of my face was plastered with snow. The eyelashes on my right eye were frozen shut. At that point I could just see the phone pole near Kathy's house. I said a prayer that there were no more drifts and pressed on. I made it.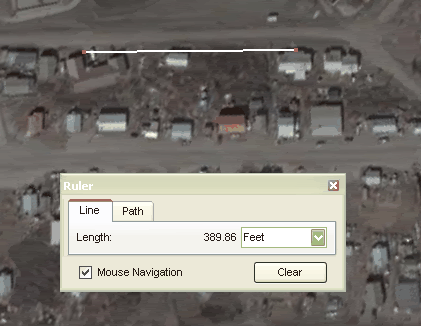 It took me almost 15 minutes to walk 389 feet. That was the hardest won 389 feet of my life.
Bree's stroll home was as bad as mine only longer. There were many of us last night that were stuck at our various places of work. There were kids stuck at the school until midnight...but hey, they sure don't have to make up a snow day and that's what counts....right??
I know there are others from last night with crazy stories like mine. Go check out
Maija's blizzard story
Here is what my work looked like this morning when I stopped by to pick up my truck and try to make it home.
Luckily the side door wasn't blocked.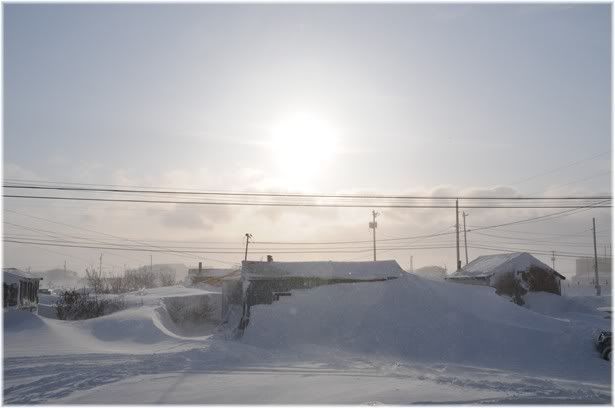 My neighbor's buried house. I have heard several people say that this is the worst storm they have seen in the last 25 years.
So I learned a couple valuable lessons in this storm. The first being that I should trust my instincts. That just because you have been through a bunch of storms in the last 2 weeks doesn't mean that the next one isn't gonna be the mother of them all. I should have gotten my mom and my boy out of school when I first had a bad feeling about the whole thing. I shouldn't have left these decision up to other people who may or may not have our best interest at heart.
The second lesson is that when it comes to keeping my child safe or not making up a school day, the school district will pick not making up a school day. Pretty sad that a bunch of kids, some with special needs , were stuck at school until late into the night because the school district didn't want to have to make up that day. We all know that is the reason they waited until after 1pm to call off school. If someone disagrees with that assessment feel free to comment here. I have no problem eating crow, it tastes ok with ketchup.
So that's my story for those of you who asked to hear it. I know a lot of Kotzebue folks have stories of last night like mine, or worse. It would be great to hear about them so post me a comment if you have the time. You can be anonymous if you want. How did you get home or where did you spend the night???

Here is the weather chart for Kotzebue during the period of time that this story took place. While it may have been pretty breezy here, mother nature tried to blow the village of Savoonga off the map...during this same storm they had sustained wind of 84 mph with gusts to 99mph.