.
Well I guess my plea the other day fell on deaf ears as I have been listening to the wind whistle through every crevice in the house for the last 32 hours. I'm supposed to leave for Juneau tomorrow but I don't know how that is going to turn out because what this storm lacks in snow it's making up in duration.
Besides doing a whole lotta nothing I did some laundry, some homework, some packing for the trip that probably won't happen, took a couple pictures of the dogs.....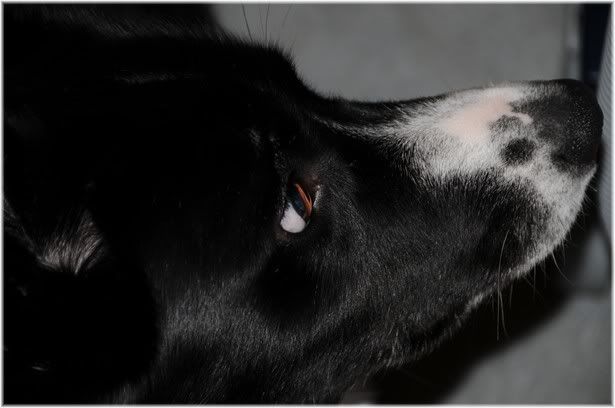 .......and wasted some time of Facebook. It's a great time waster. So a friend of mine tagged me for one of those thingers...you know, the "Share some stuff about yourself" kinda thing. This one is called "Shuffle' and you put your ipod/mp3 on shuffle and write down the first 25 songs it plays in an hour. Well that was too much time for me so I just out it on shuffle and kept hitting next until I had gone through 25 songs. So since I don't like to waste my creative energies (lol) I'm gonna cross post the list here...cuz I'm so interesting and all, ya know.
1. "Taste the Pain" Red Hot Chili Peppers
2. "Get Up" REM
3. "Falling Free "David Gray"
4. "This is Where it Ends" Barenaked Ladies
5. "Kiss On My List" Hall and Oats (rofl)
6. Awesome God" Michael W. Smith
7. "Gold Dust Woman" Fleetwood Mac"
8. "You Outta Know" Alanis Morissette
9. "The Wrong Child" REM
10. "Broken Wings" Mister Mister (come on don't laugh, you know you like it.)
11." Listen to Her Heart" Tom Petty
12. "Carry on my Wayward Son" Kansas
13. "Bittersweet Symphony" The Verve
14. "I believe" REM (I have LOTS of REM)
15. "My Lovely Man" Red Hot Chili Peppers
16. "Warm Whispers" Missy Higgins
17. " Your Grace is Enough" Matt Maher
18. "Sue Me" Kurt Nilsen
19. "What a Good Boy" Barenaked Ladies (one of my most favorite songs ever)
20. "Falling Awake" Gary Jules
21. "Name" Goo Goo Dolls
22. " Le Vieux Piano" Edith Piaf
23. "Day By Day" From the broadway musical Godspell
24. "Careless Whisper" Wham! (Classic!!)
25. "Hand's of the Potter" Caedmon's Call
Go ahead and do this too if you have the time and the ambition to waste. It was actually fun. Post the results on your blog, or in the comments on my blog, or BOTH!
.