I love Alaska, and even more I love living in bush Alaska. We make a lot of sacrifices to live here and for the most part they are worth it, but sometimes you just can't help but complain.
A while back I was lamenting the empty state of my freezer and pantry. We were beginning to run out of things like may, coffee, pilot crackers, hamburger and chicken. These are things that I try to stock up on whenever I have a chance to go to Anchorage. Apparently I stocked up on too many Christmas presents and not enough food the last itme I was down there. Lucky for us we have a few friends in Anchorage who were willing to help us out. I sent a grocery list to our friend Alane and she hit Costco and Walmart to get all the items we needed. Last week she expertly packed everything into three totes and passed them off to my friend Lois who brought them to Alaska Airlines Cargo and sent them up.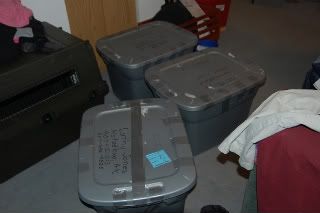 Here are the totes when they arrived. I absolutely hate, with a passion, buying groceries from the Alaska Commercial Company (AC Store) here in Kotzebue. We now only have two stores in Kotzebue, AC and Rotman's. Rotman's is 1/4 the size of AC so they hardly count as competition when it comes to shopping. Ever since the demise of Hanson's, AC has steadily raised their prices.
The prices at AC are insane, even for bush standards. It is not the fault of the people that work at the store here in Kotzebue, at least I don't think it is. If you complain to them they tell you that the prices come from higher up, maybe the regional office in Anchorage or the home office in Canada. The managers tell you it's because of freight prices, I say that's crap. I'd like to see it broken down. When I had my friends shop in Anchorage for us and send it up we paid around $360 for 192 lbs of groceries. It cost $118 to send that 192 lbs of groceries to Kotz. So those three totes cost a total of around $478. I would guess, that those same groceries, purchased here, would have cost at least $750. At least. Let me give you a few examples....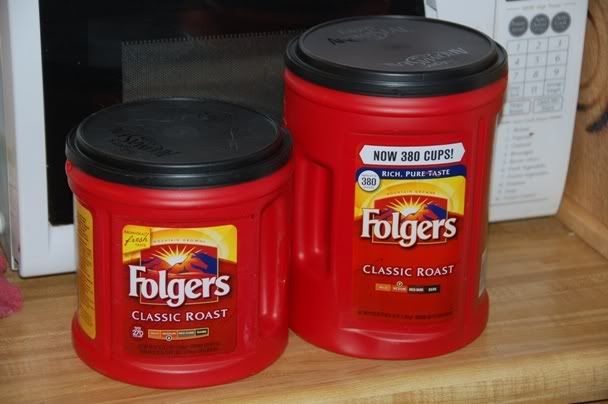 The can of coffee on the right was purchased in ANC (Anchorage) for $8.79. The smaller can of coffee on the left costs $17.45 in OTZ (Kotzebue)
* 64 ounce jar of Best Foods AKA Helman's) mayo cost $7.49 in ANC. In OTZ it's $13.74.
* 4 lbs thick sliced Bacon is $10.99 in ANC while only 2 lbs of the same is $16.29 in OTZ.
* A big bag of individually wrapper El Monteray burritos was $13.49 in ANC but it's $31.25 in OTZ...you know, cause they're so frikkin' heavy and all.
* In ANC you can get a 4 lb pack of butter quarters for $5.79, but in OTZ 1 lb of butter will cost you $5.45.
* In ANC you can get a 6 lb bag of flash frozen boneless skinless chicken breasts for $16.99. In OTZ it will cost you $16.99 for a 2 lb bag.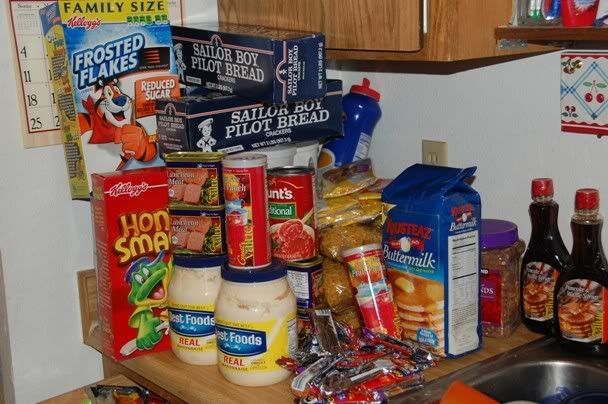 The list goes on and on. I find it interesting that Nome is on the same freight schedule as Kotzebue yet the Nome AC store prices are much cheaper than ours. It be nice to hear the explanation for that....but we won't.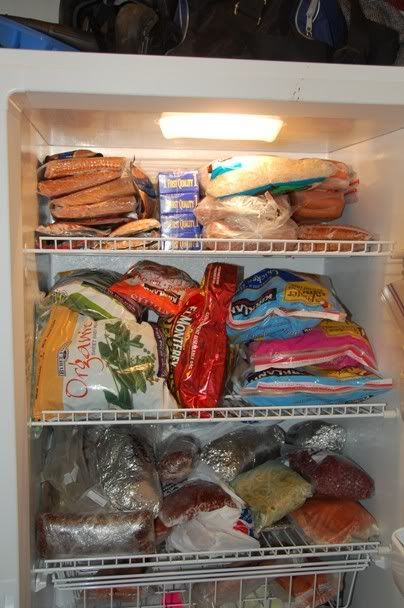 So my freezer is happier and so am I because I didn't buy it at AC.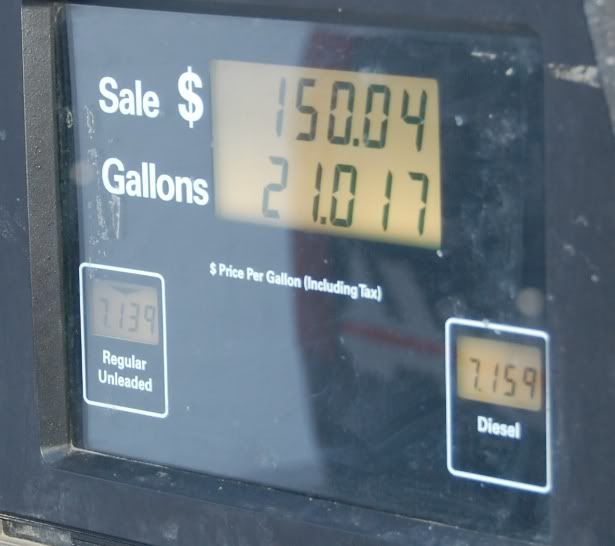 Yeah, and gas sucks too. This is how it looked when I filled my truck the other day.
.