.
On the morning (July 23) of Halibut and Ling Cod fishing we headed to the Homer Harbor at 6:30 am. Alaska Coastal Marine was sending out two boats Born Free which we had chartered for our group. There were eleven of us all together. It was a mix of staff and individuals with developmental disabilities, some physical and some cognitive.
So we made our way down the steep dock ramp and started walking to our boat. To get to the Born Free we had to pass by the Foxfire where we could see their group getting ready. I could see about 8 or 9 big tough looking dudes dressed in camo rain gear. They looked like they had just walked out of a Cabela's catalog. We made our way down the dock and got on the Born Free.
Once on the boat we met our Captain, Matt, and out deckhand, Levi, and headed out into the bay. Our plan was to run out to the entrance of Cook Inlet where the big fish are. We were going to start out fishing for ling cod and then go for the halibut. The weather had different plans for us.
It was a breezy morning so the father out we got the rougher the ocean. The waves kept getting bigger and bigger. Sitting in the boat was like being in an amusement park ride. You would ride up one side of the wave and when you dropped down the other side your stomach would flip. As rough as it was the only one on our boat who got sick was Uyaana and I'm pretty sure it's because he was trying to play Pokemon in his DS. After about an hour of fishing the waves the Captain decided that it just wasn't safe enough and we turned around. The Foxfire turned around also.
At that point Captain Matt told us we had two choices, we could head back to the harbor and we could get a refund or we could travel past home up further into Kachamak Bay near Bear Cove where the water would be a bit calmer and see if there was any halibut there. We told him that we traveled all that way to fish so We wanted to fish. He said that was fine but there was no guarantee that we would catch anything. He also said that the guys on the Foxfire decided to head back to the Harbor because they weren't feeling so well. Later we found our from someone on the dock that the reason the Foxfire went back to the harbor was because the customers on the boat were totally seasick. The boat had vomit all over inside and out on the deck. So much for big tough looking dudes.
So we headed off towards Bear Cove and started to fish. It was slow for the first few hours with some of us just catching a few cod here and there. After a while it started to pick up a bit and we were catching some halibut. Lucky me I caught the largest one on the boat that day....83 pounds. So even though the fishing trip wasn't what it was supposed to be it was still successful and a lot of fun.
Alaska Coastal Marine Charters
was a great company to fish with. They were knowledgeable, patient and accommodating. I would highly recommend them if your ever in Homer and want to do a little fishing.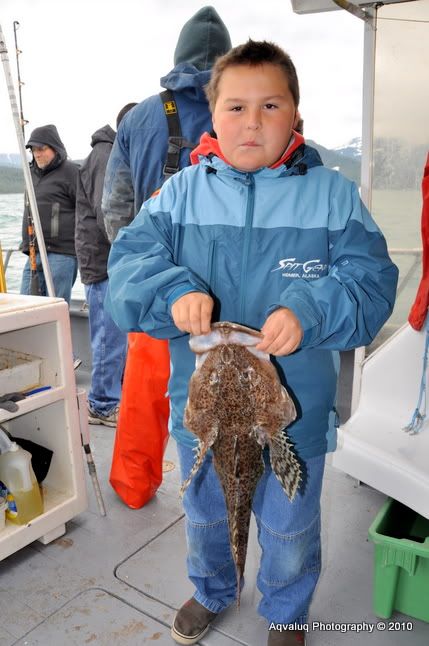 Uyaana with one of two bullheads that we caught. I didn't know they could get that big. We threw them back.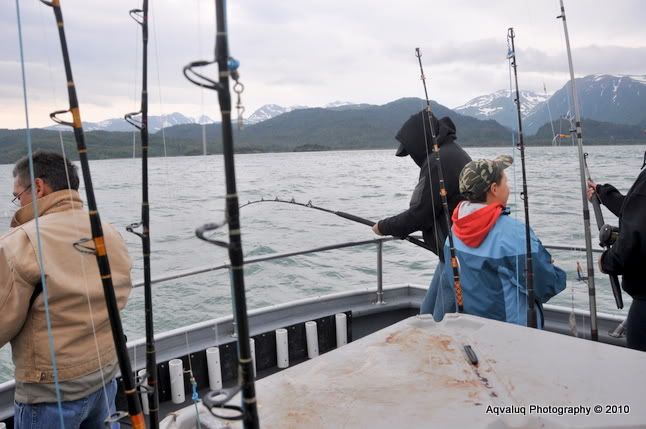 Here's one of our group with a fish on.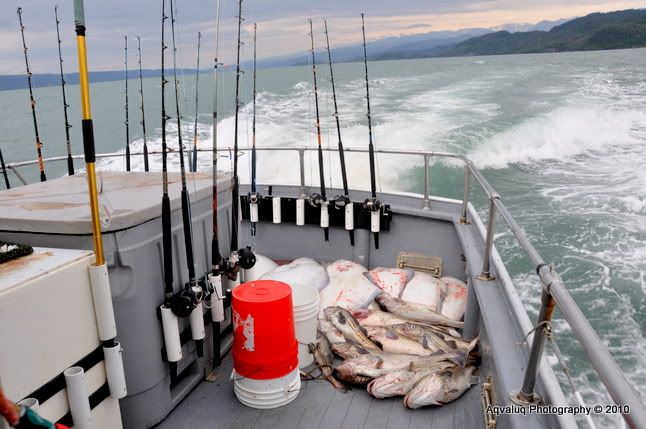 Heading back to the harbor with the fish that we caught. Eight halibut and twelve pacific cod.
Captain Matt hanging up my halibut.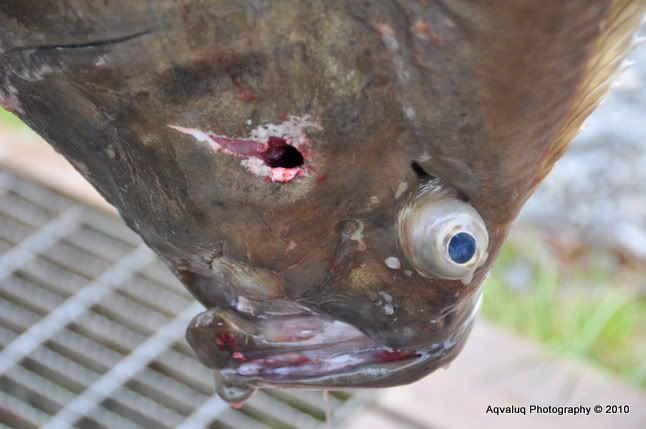 It was big enough that the captain had to shoot it with a bang stick (.38 Special round) before hauling it into the boat.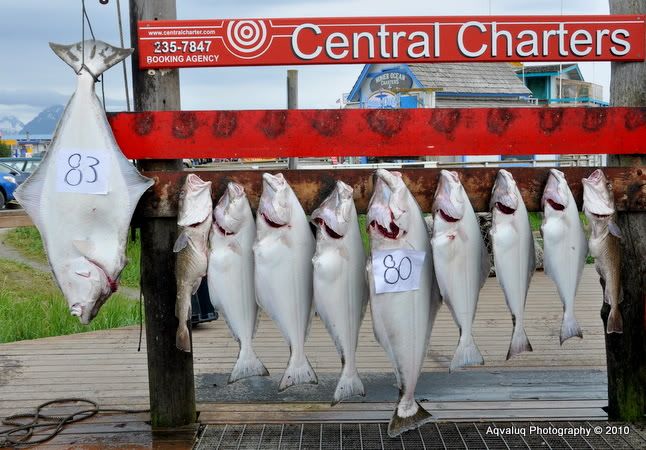 Here are all the halibut we caught plus the two largest cod.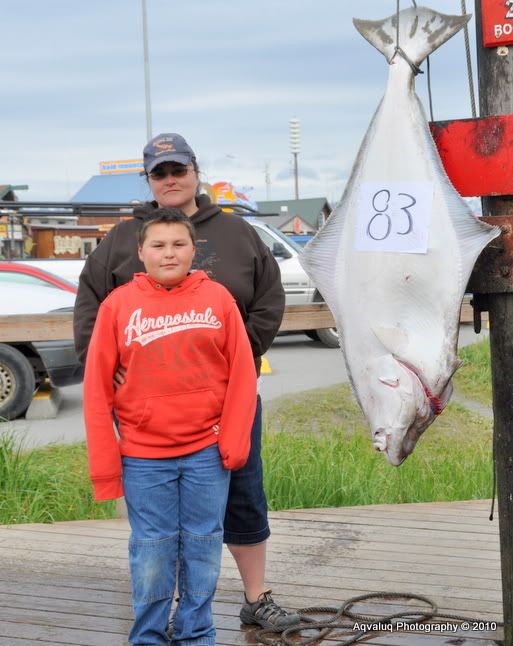 Me and Uyaana and my big fish.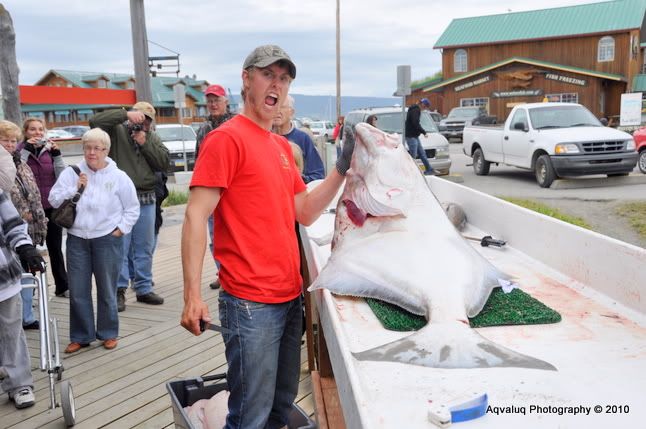 Deck hand Levi getting ready to filet my halibut.
.