Well I haven't written anything one here since last thursday. I have been busy working and procrastinating and as a consequence had umpteen zillion homework assignments that I had to complete. I did resize and upload some pics to post but never got around to positn them.
Anyway......
My new Nikon D40 came in!!!!!! It came on wednesday, Halloween day, from Amazon.com. I loooove amazon.com. See the lovely crunched box compliments of the United States Postal Service. Really it's not that bad. When you pay for Priority Mail you only get slightly crunched boxes from the lower 48 in an average of 4-6 days. If you are cheap and send things Parcel Post, lovely United States Postal Service uses gorillas (remember the American Tourister commercials?) to throw and stomp your boxes around for six weeks until the contents are spilling out. Thank goodness amazon.com uses Priority Mail and the contents of the box arrived safely.
Here's the box it came in. I was so darn excited I couldn't wait to open it up.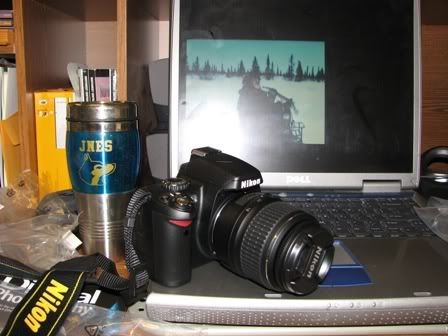 Here she is ladies and gentlemen.....MY NEW NIKON. Isn't she pretty? Pretty, sleek, shiny, and I have ABSOLUTELY no idea how to use it!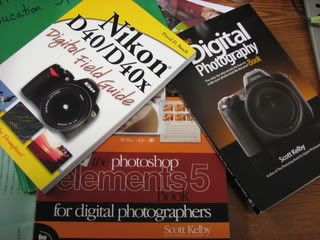 And because I have absolutely no idea how to use it I bought these books to go with it. Hopefully they will help me find my way through the jungle of ISO's, aperture, exposure, f stops, and bokeh. I also got a book about Adobe Photoshop Elements because that program is enough to make you want to bang your head against a wall.
So like I said before, I have absolutely no idea what I am doing. I have been trying real hard to make friends with my new camera, but I'm not so sure she likes me. I decided to just take pictures in full auto mode for a while to get a feel for the camera and give me a chance to read my books and try and find a clue to what I am doing. Here are some pics that I have taken.....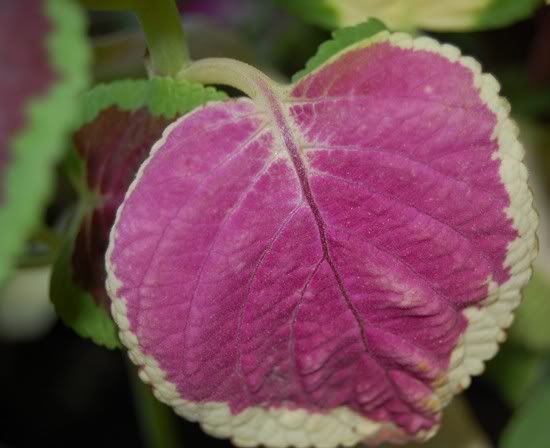 This is a leaf of the plant on my dining room table. This is about as macro as the 18-55mm kit lens will go. Not bad really. I would love to spend hundreds of dollars on a macro lens but I think I am just going to get one of those screw on close up lens thingers for now.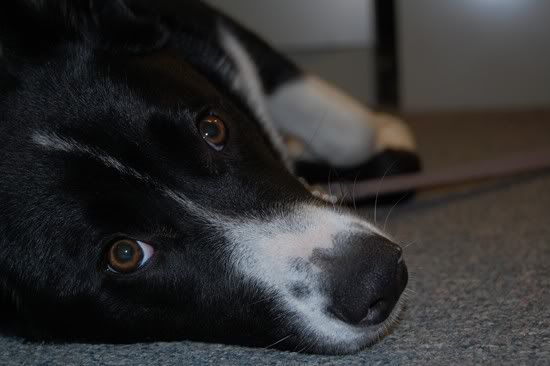 Here's a close up of Kaija. I was lying on the floor down at her level trying to get a close up shot. She wsn't cooperating. If I got too close she would try to lick the lens.
This is a shot of my friend Kathy's Rottweiler. His name is Sonnyboy. He absolutely would not sit still, so the camera did a good job keeping in focus.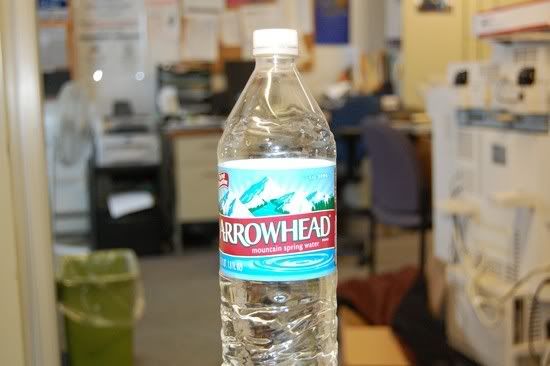 And here is a lovely photo of a water bottle on my desk at work. I was trying to do one of those close up shots where the background is all blurry. I found that my 18-55mm lens only goes to f3.8 and I need to go lower to make the background blurrier....or at least I think that's what it was.