I'm sure that most people in can think of a food that is uniquely popular in their state. Something that they grew up on that was hard to find or not as popular elsewhere. I remember growing up in New Hampshire coffee milk shakes at McDonald's were popular, but if you asked for one anywhere else the guy at the drive thru would look at you funny. Ever try to look for Fry Sauce (a Utah favorite) in Rhode Island??? Did you know that Hawaiians eat more SPAM per capita than anywhere in the United States??
In Alaska, we love out Sailor Boy Pilot Bread. We call them "pilot crackers" or usually just plain "crackers". They are a staple in most households around here, especially in the bush. They are relitively cheap, virtually indestructable, and go with anything. If you asked a hundred different people you would hear a hundred ways of eating them.....but not many people really thought about it until a rumor surfaced that the cracker was going to be discontinued by the manufacturer. The Anchorage Daily news wrote an article about Alaska's favorite cracker yesterday and asked everyone to give their comments. Here are a few.....
"Nothing beats pilot bread with melted american cheese on it..except maybe pilot bread with goober, tuna, butter and salt, akutuq (eskimo ice-cream), smoked salmon, Spam and cheese, or just dipped in soup! It's good with anything!"
"'m from Nome and sometimes we call them "Diomede Donuts" for fun.
I used to put a slice of American cheese on one and pop it in the microwave for 20 seconds or so. Or toasted with melted butter. Mmmm...."
"we called them Bristol Bay peanut butter brownies -- pilot bread smeared with PB and sprinkled with powdered hot chocolate."
"I also like eating pilot bread crackers with dried salmon strips as it is good for soaking up the fish oil. It sure taste good when you are out hunting or camping. It is easy to carry in your backpack and does not take up a lot of room. It is quick to get out when you are sitting waiting for moose to respond to your call during the fall hunting season and can carry a lot to share with others in your hunting group. I can live on these crackers every day and buy it on a regular basis, it is definitely a staple food in our house. The cracker has changed from years ago. I have noticed that the holes are larger and they seem to crumble more easily than they use to. All in all they are good eating and am happy that they will still be available for my families consumption. Thank you Interbake for making the Pilot Bread for all Alaskans."
So as you can see, Alaskan's are passionate about their favorite cracker. Some of my favorite ways to top them are with Goober, tuna salad and Tabasco sauce, canned smoked oysters (way yummy!, salmon dip, cheese, or just plain ole mayo. We also love pilot cracker pizza.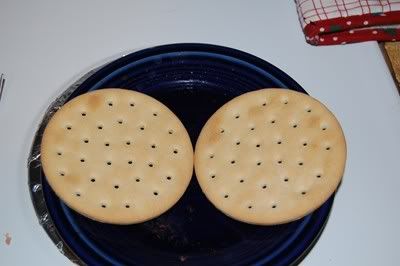 Take two crackers put 'em on a plate.
Spread the crackers with pizza sauce.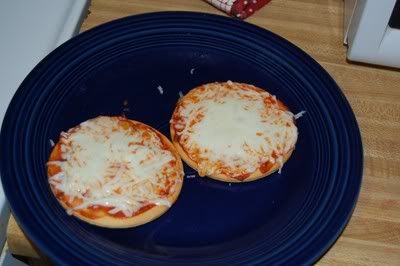 sprinkle with mozzerella cheese and microwave for 1 minute...YUMMY!
ANCHORAGE DAILY NEWS
http://www.adn.com/front/story/9433456p-9345620c.html
By BETH BRAGG
bbragg@adn.com
Published: November 6, 2007
Last Modified: November 6, 2007 at 05:51 PM
Maggie Roberts learned to love Sailor Boy Pilot Bread in the village of Venetie, where her grandmother always has a big box on hand. "I like eating it in soup, like moose soup or something." Susie Merculief prefers to feast on her own homemade bread these days, but has fond memories of Pilot Bread from when she lived on St. George Island. "I used to eat it before and after the Second World War. I would toast it in the oven. It was nice to put butter on it when it was warm." Lawrence Baker of Ninilchik would eat Pilot Bread every day if he could. "I like that whipped cheese on it. But I have to drive 34 miles to buy it, so I don't always have it."
Alaskans may not live by Pilot Bread alone, but they profess an unmatched devotion to the round, durable, unsalted crackers that are the staff of life for villagers, cabin-dwellers and a few city folk. So when rumors circulated that -- gasp! -- Interbake Foods might drop the cracker from its menu, Alaskans panicked. One of them, Janice Bendixen of Butte, sent an e-mail to the western region office in Portland. Was it true? Should she stock up with a case or two? Not to worry, regional business manager Jeff Poirier told her.
Interbake has no plans to discontinue the crackers, which it produces almost exclusively for Alaskans. We buy 98 percent of the stuff. Bendixen, an account executive with Northwest Strategies in Anchorage, sighed in relief and spread the word with a news release. She grew up in Nome, where Pilot Bread wasn't just a household staple. It was served daily at her school.
"In kindergarten it was our snack. It was Pilot Bread with peanut butter and apple sauce. That was in about 1968," she said. She eats it to this day, usually with a heavy stew or moose soup. She can't imagine life without Pilot Bread in rural Alaska, where its popularity is unrivaled. "You can't kill it. It's indestructible. Even when it's stale, which takes 10 years, it isn't stale when you toast it. "C'mon. It's empty carbohydrates and fat. How can that be wrong?"
'STURDY STUFF'
Poirier thinks Bendixen is onto something. He said Pilot Bread's durability makes it a natural for rural Alaska, where some food arrives after long journeys from the Lower 48 and some people live far from stores. The crackers don't have much oil or moisture, so they last a long time. "There's nothing to go rancid," he said. "It's sturdy stuff." Poirier was in Anchorage last weekend, giving out samples of Pilot Bread at the DeBarr Costco. He wanted feedback from Alaskans about the crackers, which recently moved from a bakery in Richmond, Va., to one in Front Royal, Va.
The recipe hasn't changed, he said, but a different water supply is being used and Interbake has bought a new oven. The bakery is trying to make sure the crackers don't change much in taste or texture as a result. Audrey Larson of Anchorage sampled crackers from two different batches and pronounced both satisfying. "This might be a little lighter, maybe more crumbly," she said of the more recent batch. "Oooh, I like it." Larson discovered Pilot Bread more than 40 years ago when her husband got a job in Bethel. Before moving to Alaska, she'd never heard of it. She doesn't eat bread anymore, but she eats Pilot Bread every day for lunch. "With peanut butter and honey on it," she said. "I used to have a day care, and little kids like it too." Her only gripe is she can't find Pilot Bread when she and her husband travel to the Lower 48.
Poirier's heard that complaint before. "Anytime an Alaskan moves to the Lower 48, they freak out when they find out they can't find Pilot Bread," he said. When they call Interbake, Poirier tells them how to get it shipped via UPS.
THE MISSING 2 PERCENT
Poirier said the 2 percent of Sailor Boy Pilot Bread that doesn't wind up in Alaska usually ends up in one of three places:
• It's sold on Indian reservations.
• It's ordered by Oregon survivalists who want to stock up on non-perishables.
• And it's shipped to Japan, where, Poirier said, the government encourages citizens to prepare survival kits in case of a tsunami or other disaster.
Pilot Bread is also known as hardtack, a cheap, everlasting cracker made of flour, water and salt. It was a staple for soldiers during the Civil War and, before that, on ships making long voyages. The highbrow set knows it as water crackers. No matter what you call it, it's dry and bland -- until you dip it in a stew or soup or top it with peanut butter, honey, jam, butter, Spam or cheese.
The Sailor Boy Pilot Bread comes in a box as familiar as the cracker itself: Navy blue with white letters and a drawing of a sailor boy who could be Buster Brown's twin. It looks like something straight out of the 1940s. Interbake's product list includes Girl Scout Cookies and a number of niche crackers and cookies. If you eat a Drumstick ice cream treat, the cone most likely came from an Interbake oven, Poirer said. The company also makes the chocolate wafers used for ice cream sandwiches.
But nothing it makes is quite like Pilot Bread.
"I can't think of any other branded product like it," Poirier said. "You bake it in Virginia and sell it all in Alaska, and it hasn't changed in 50 years. That's just weird."