"What the heck is a nettie-pot?" my mom asks me.
"A what...I have no idea what you are talking about." I tell her.
"You know, on your
nasal spray post,
some guy
suggested you try a nettie-pot" She said.
"I dunno" I replied, "I guess I'll google it". I said.
Well let me tell you my friends, this...........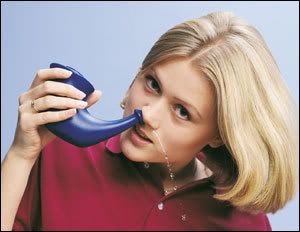 .....a
Neti Pot!
What the heck? Does anyone else find this photo...well...a tad disturbing? And people make fun of ME about my nasal spray. I was freaked out. And then I burst into fits of hysterical laughter. And then I squinted at the photo and thought "OMG, is that water going up one nostril and out the other?!?!?!" So back to google I went. I googled "neti pot" and then clicked the images button. Holy cow! The water DOES go in one nostril and out the other! Does that freak out anyone else besides me? Kind of like that kid in the middle school cafeteria who used to snort spaghetti noodles up his nose and cough it up through his mouth.
.