We are having another blizzard. Well more of a blow than a blizzard as the visibility is still pretty good at 5 miles but the wind is 37-45 mph. The last blizzard had a lot more snow in it.
The good new is it looks like it is going to warm up a bit next week. Maybe I'll get a chance to take the snowmachine (snogo) out in the country without freezing my butt off. I don't ride around on the snogo much until February. The days are too short before that. I like to ride around and see the scenery, not ride around in the dark.
Since today was another indoor day I decided to try and cut the boredom by playing with my camera (instead of doing homework which I have PLENTY of). Here are a couple shots that I took.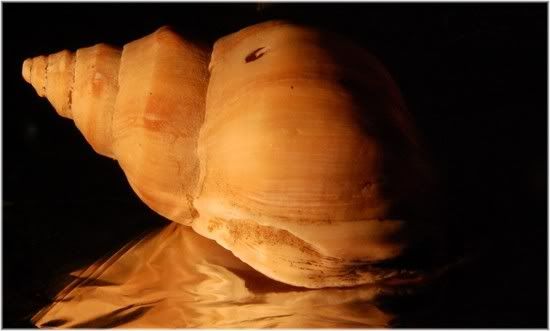 This is a shell I picked up off the beach at Sealing Point (Cape Krusenstern National Monument. I set up a piece of Aluminum foil on the coffee table to use as a foreground/backdrop. I used a single votive candle (Yankee Candle Siberian Silver Fir, YUM)for light. I put my camera on the tripod and experimented with shutter speeds. I like what I got, but I am not pleased with the amount of noise. The ISO was pretty high at 1600. Not sure how to adjust that yet.
I had the same problem here. This is a green jar filled with sea glass from the beach at South Tent City here in Kotzebue. I put the candle behind the jar to give it a bit of glow. I think it would be a really nice photo if I could do it again with less noise.