.
As promised, here are the photos from the St. Francis Xavier Christmas Bazaar. It was populated by the usual characters, so you will see some familiar faces selling familiar things.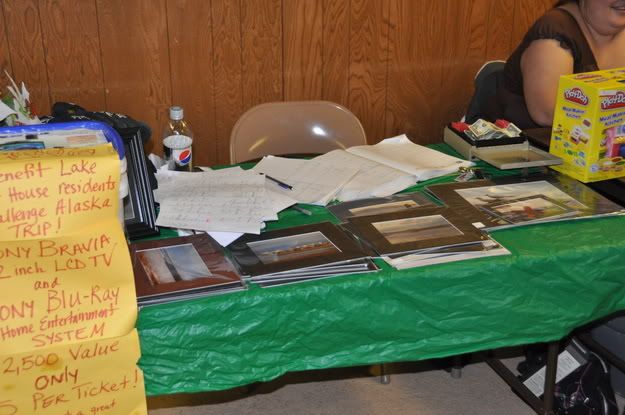 Here's my table. I was trying to get my algebra homework done.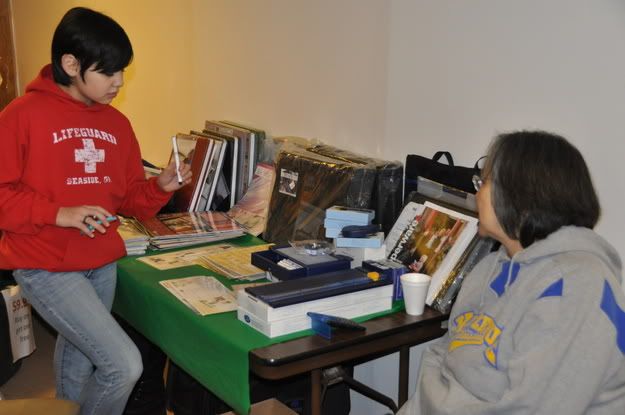 Scrapbooking stuff. You know...I used to scrapbook a bit. I made some nice stuff...but I just don't seem to have the patience for it. I think it's because I really don't have the room in my house to spread it out. I have to keep it in rubbermaid totes and unpack it and pack it back up every time I want to work on something. So I have a bunch of scrapbooking stuff but I haven't touched it for at least three years.
Seth Kantner's table.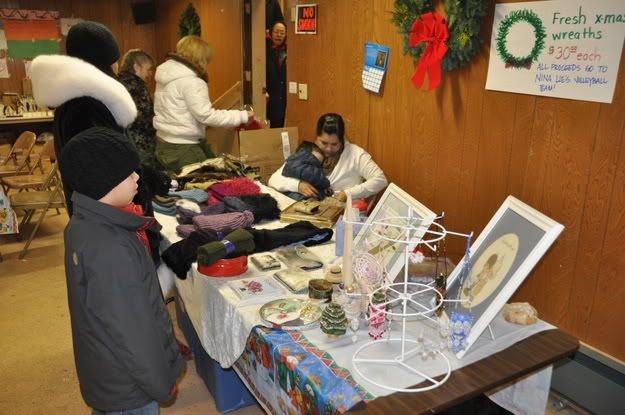 This table has some wallets hats and mittens made out of sealskin. I have a pair of sealskin mittens with sheared beaver trim made by this lady. They are beautiful.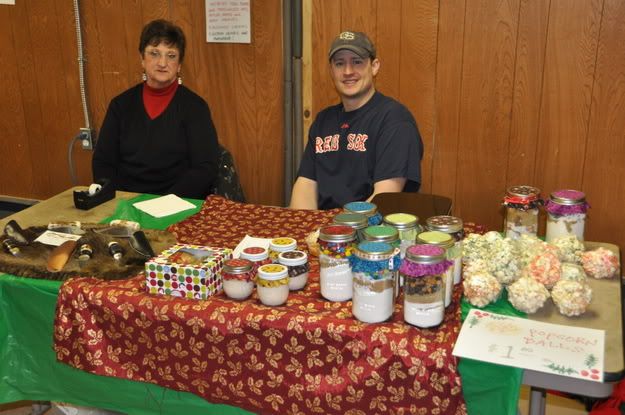 Here is Maija's husband, Dean. He makes handcrafted knives. Very nice stuff. The lady seated with him is his mom. She's a great lady.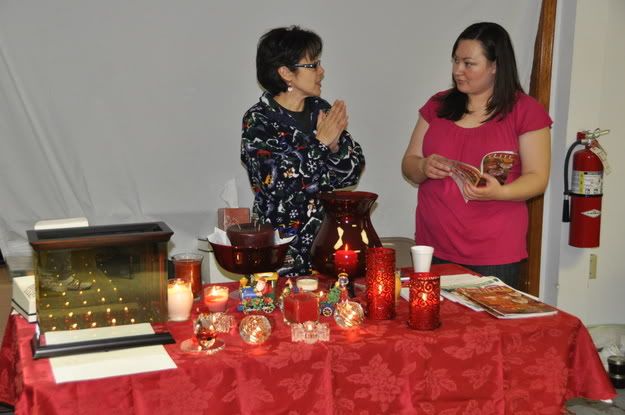 Partylite candle stuff. There was also a table where someone was selling Mary Kay products. Gotta love our bazaars...you can buy your makeup, sealskin mitts and pickled muktuk all under one roof.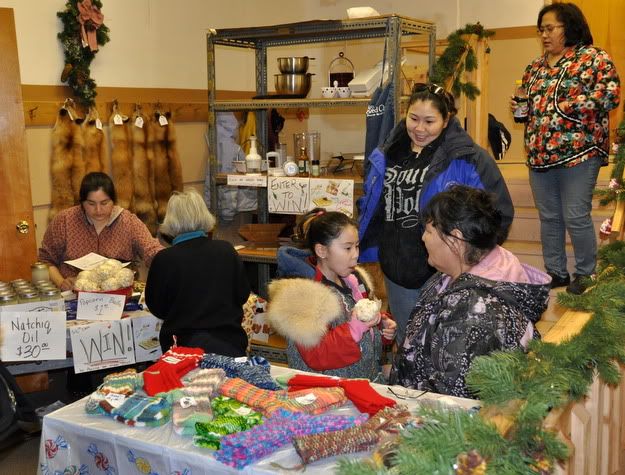 Buy some knitted socks from Christine. They are great to wear in in you shoepacks or mukluks on a cold winter day. And you can buy some Natchiq (ringed seal) oil and a popcorn ball from Corina.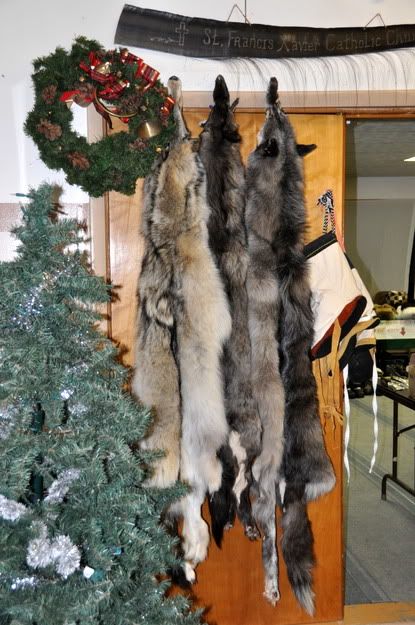 You can buy a whole wold pelt from Kookie. Make a nice ruff for your parkie.
Some more hats and boots.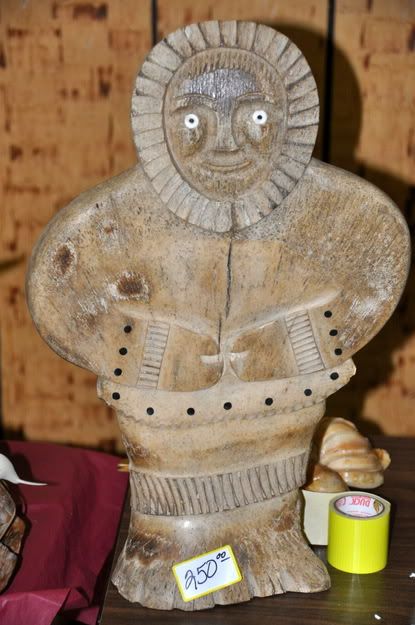 This guy is carved out of whale bone.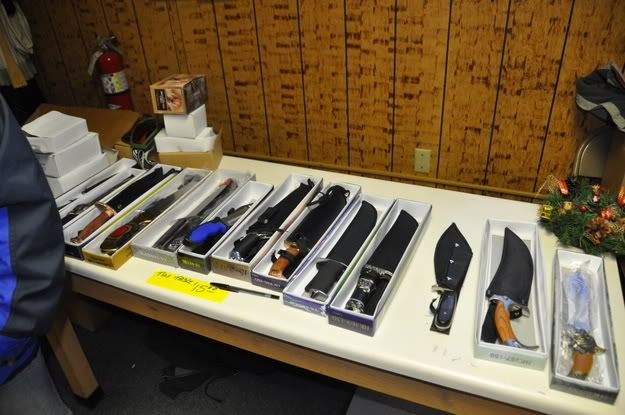 This guy was selling store bought knives that he ordered from somewhere. They were HUGE. I honestly have no idea what someone would do with a knife so big.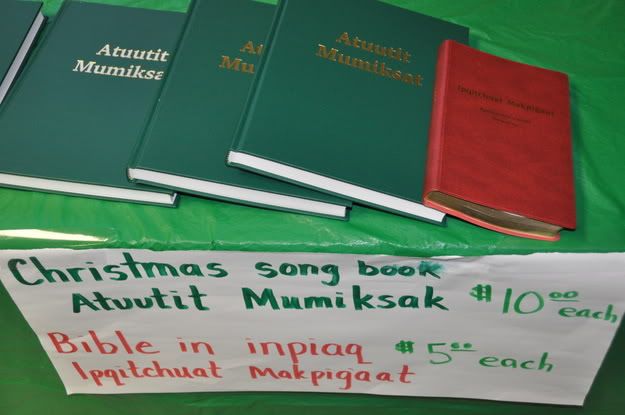 The Kotzebue Friend's Church was selling copies of a christmas songbook and the Bible written in
Inupiaq.
Jewelry and other trinkets.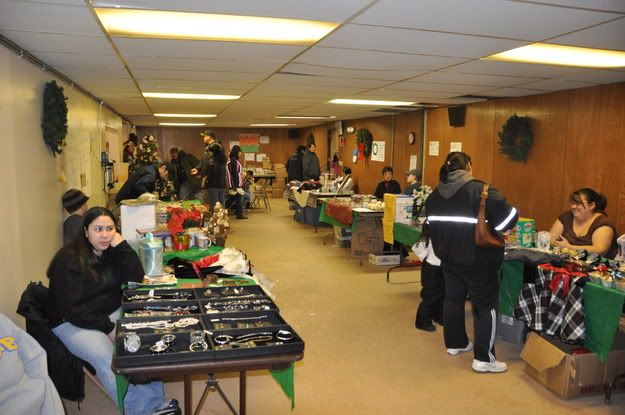 Here is a shot of the set up downstairs. There was more people set up upstairs too.
My find of the day was an awesome black fox hat with dark blue leather. It fits me perfect.
Uyaana decided to model it for the camera.
There should be at least one more holiday bazaar...maybe next weekend or the weekend after that.
.