.
Most people have used or at least heard of
Google Earth.
I love this program and I use it quite a bit got find an address or see the distance between two places. It is also a great way to play tourist from your desk. It's quite easy to lose yourself in Google Earth for a couple house exploring the globe.
Google Earth also allows you to upload photos to it's server via Panaramio. This is a lengthy process and it can take up to a couple months for your photos to show up after you submit them, but it is worth the wait. They have to go through a screening process to see if they are appropriate and then Google Earth only uploads photos once a month. When the photos are uploaded they look like little blue squares that you can click on. You have to zoom in quite a bit before you can see the little blue squares.
This is a screen shot of Kotzebue on Google Earth. You can see the little blue squares. Some of them are photos that I have uploaded and some belong to other people. The instructions for photos say that you should place the blue square on the location where you took the photo and not on what you took the photo of. Keep that in mind when you look at the photos.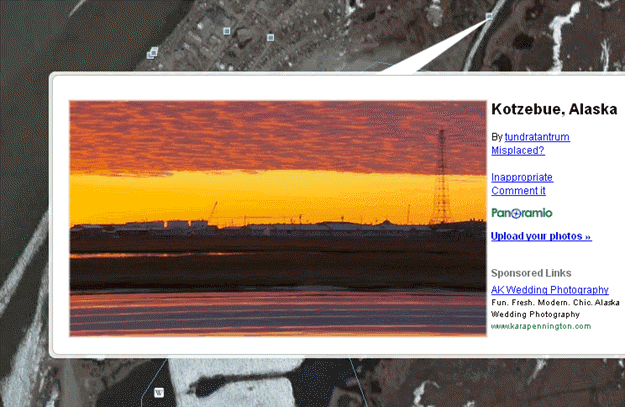 When you click on the square the photo will pop up with he username of the person who uploaded it. If you click on the photo you can access my other photos in Panaramio.
I have many other photos from the Northwest Arctic Region, and will be adding more over time. Go ahead and explore the arctic on Google Earth and check out all the photos.
.