People have been asking for an update so here it is.
I am still in Providence Hospital in Anchorage. The blood culture done in Kotzebue came back negative for MRSA however the doctors here at Providence believe that is incorrect. They said because it was totally resistant to Clindomycin, Rosefin and Bactrum and because of how it "acts" they believe that it is MRSA and the culture results were false. I will probably never know how I got it. Most likely I had a little nick or cut or bugbite near my knee that caused a tiny opening in my skin. That's all it takes.
The cellulitis on my leg has receded quite a bit but there is a hot, painful, lump slightly below my kneecap. I am still in a lot of pain. I had an MRI of my knee and calf yesterday. There may be an abscess at my knee. They need to see whether or not it is an abscess and also to see if the infection has spread to the joint of the bone (which would be really bad news). The Radiologist has not yet read the results (of course) so nothing can be done until that happens. If it is an abscess we we will have to start the process of draining it and packing it.
In the meantime my 4th IV infiltrated last night and inserting the new IV was a really hard stick. It took three minutes of digging. Today I expressed my frustration to my doctor about not having the PICC line done on saturday when the IV team first suggested it.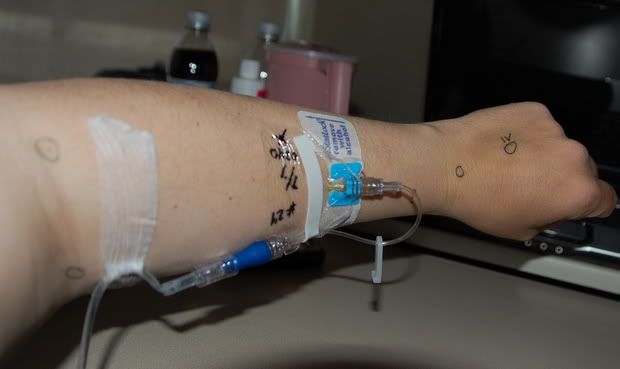 I have had at least 15 pokes in my arms since last Thursday. Last night during my frustration I took a sharpie and circled all the holes in my arms.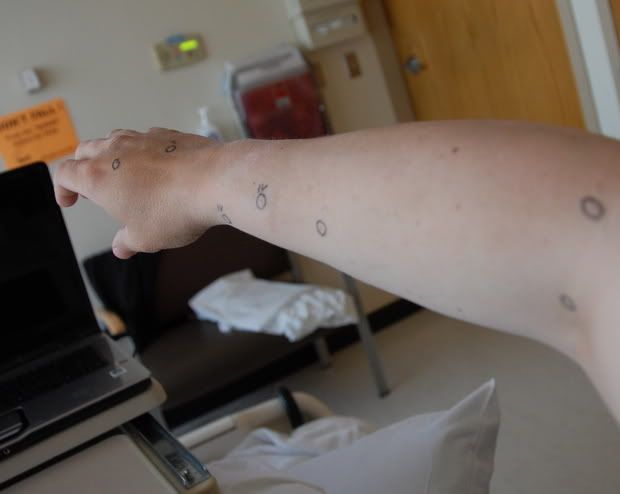 I did it just to prove a point to the Dr. I guess they will decide about the picc after the radiologist reads the MRI. In the meantime I will probably blow another IV and have 2 more blood draws to add to the sharpie circles.
I have no idea how long I will be here. At least a few more days. Tomorrow and the next day definitely. It all depends on what the MRI says and what treatment follows.
I'm very bored. I did however go online and search out a book I wanted to read. I called the local Barnes and Noble and purchased it over the phone and my friend went and picked it up for me. It's called "The Help" by Kathryn Stockett. It's a good book. So I read, I watch tv, I go on the internet (when it works), and I sleep, and feel sorry for myself stuck in here when the weather is so nice back home in Kotzebue. And I am bummed out because I hurt and because I could be here 3 more days or 3 more weeks. Who knows....but I try to remind myself that in the grand scheme of things I am really quite lucky. I am sure there are many people in this very hospital right now that have it SO MUCH WORSE than me and I should just put my big girl cagliks on and quit whining.
.