.
After yesterday's butchering, today it was time to kuvrak the blubber off the skin. The easiest way to do this (in my opinion) is to lay the whole skin over an a-frame, but everyone has their own favorite way to get it done.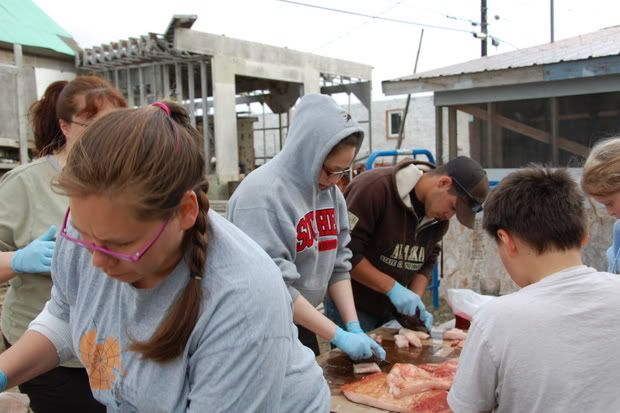 It was nice to have lots of help. We are all wearing rubber gloves because working on Ugruk is a very oily, messy job. The advantage of wearing gloves is if you need clean hands in a hurry all you have to so it pull your gloves off.
We had plenty of ulus to go around. Even people who have no experience can cut blubber into strips to we put everyone to work.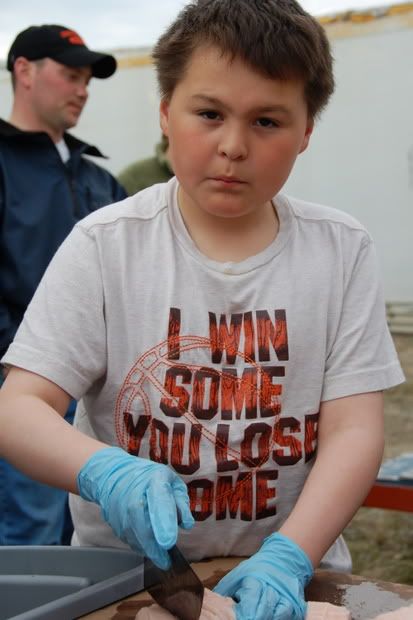 Uyaana is learning. He has watched many times but this is his first time cutting blubber.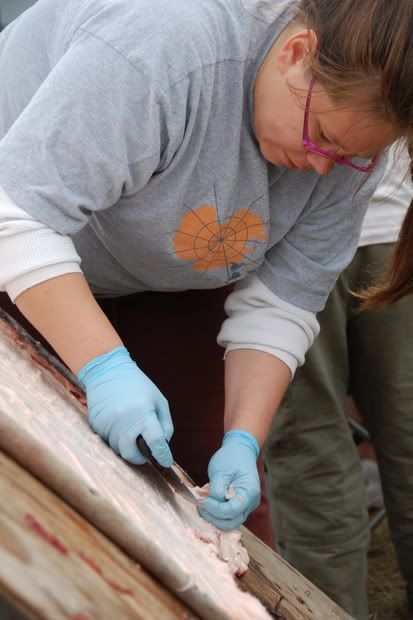 To make seal oil you need to take the blubber off the skin.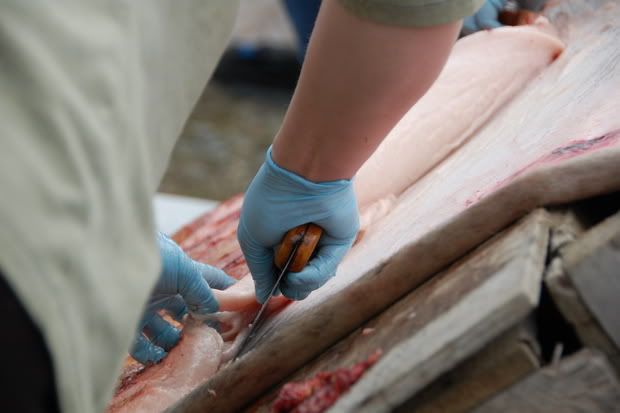 You do this by scraping slabs of blubber off with your ulu.
The goal is to leave no blubber on the skin, but that's much harder than it looks. If you slice to shallow you leave lots of blubber on the skin. If you slice too deeply then you will ulik (cut/tear)the skin.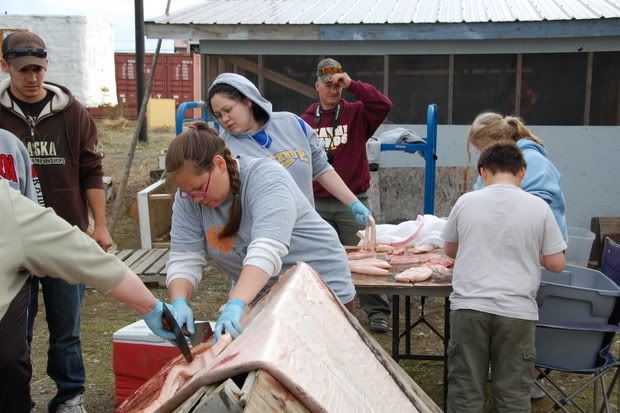 Maija and I took turns kuvrak-ing. It's lots of hard work so it's nice to have a partner.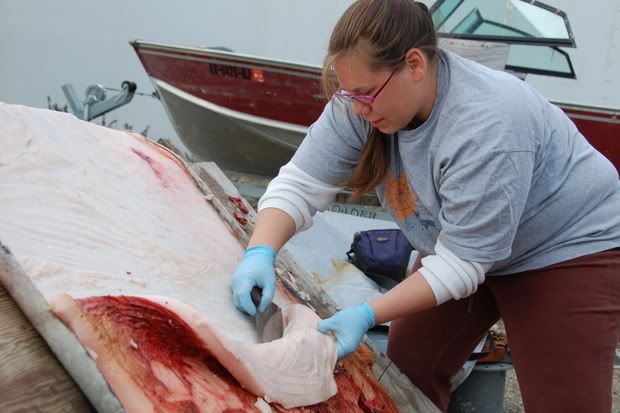 Maija has a nice big piece almost ready to be cut off.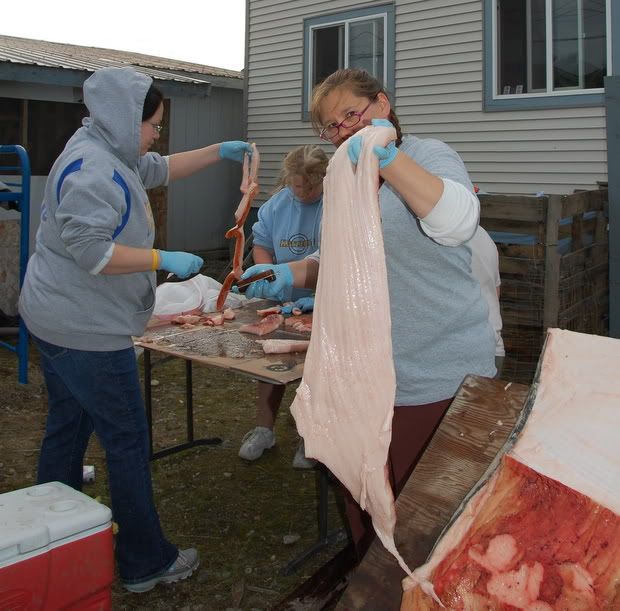 Here is Maija with a big slab of blubber which she is going to put on the table behind her.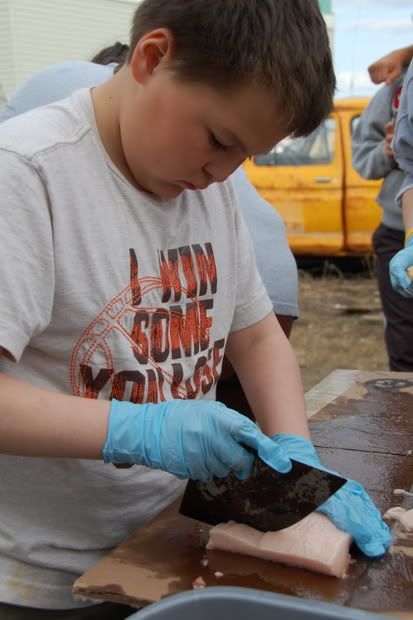 The folks at the table cut the blubber into smaller strips and throw them into a bucket.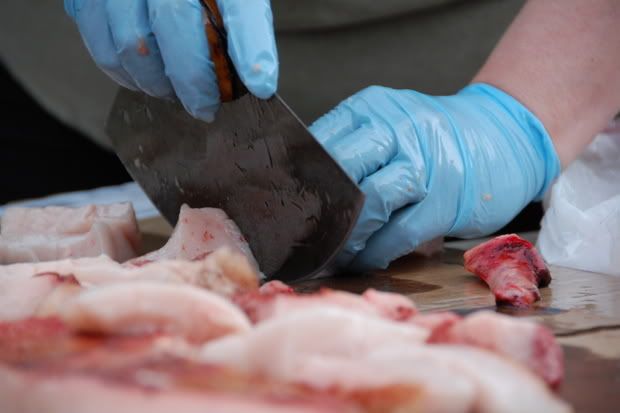 Cutting it into strips helps speed up the process of rendering.
When you cut up the blubber and put it into the bucket it will self render without heat. You just stir the blubber a couple times every day. The oil just melts out of the fatty tissue and makes seal oil. How long it takes to render out depends on the size of your strips and how warm out it is.
Here Saima and Stacey are helping us Kuvrak. It was nice to let them take over so we could have a break.
Almost done.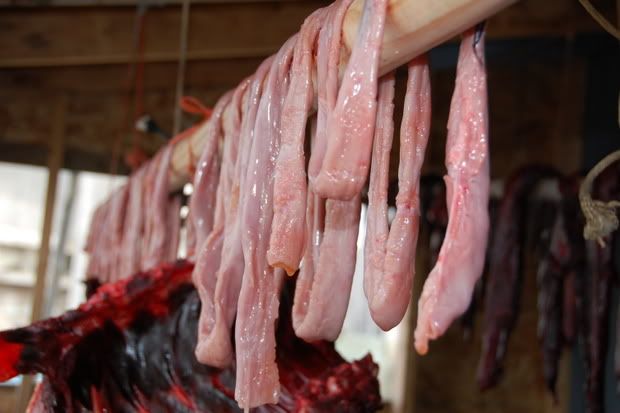 I also finished cleaning out the ingaloks and hung them up to dry for a while.
So this concludes part 2 of working on Ugruk. We're not done yet. We still have lots of work to do to finish this one.
.