.
Today was the annual Kotzebue Lion's Club Christmas Bazaar. There are usually two or three big bazaars during the holiday season. People sell all sorts of things at the bazaars, handmade items, baked goods, Mary Kay stuff, gift sets, used items, photography, anything. It is also a good time to be visit with people.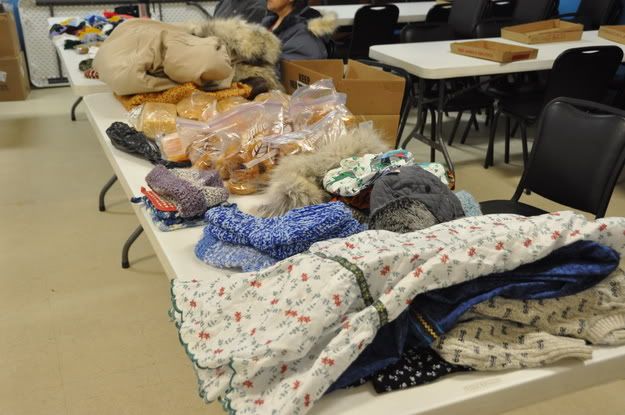 There are always plenty of handmade items. On this table there were atikluqs (kuspuks), yarn socks, knitted hats and a hand made men's hunting parka.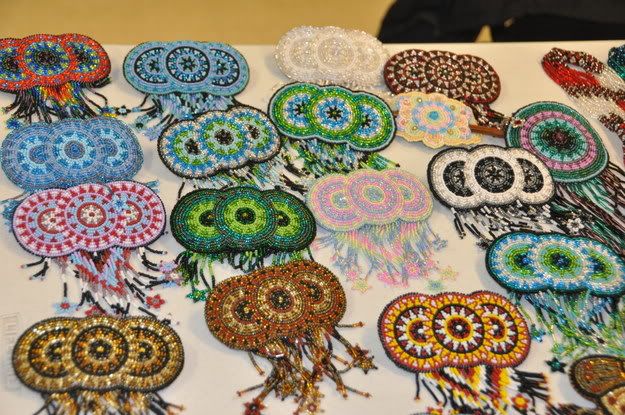 This table had these beautiful hair clips. There were these with the circular design...
...and these butterflies.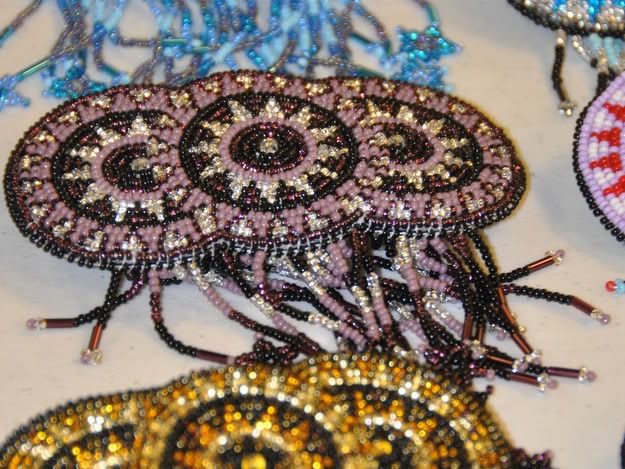 I bought the purple one for myself. I couldn't resist. It is about 4.5 inches long and 2 inches wide and the tassels hang down about three inches.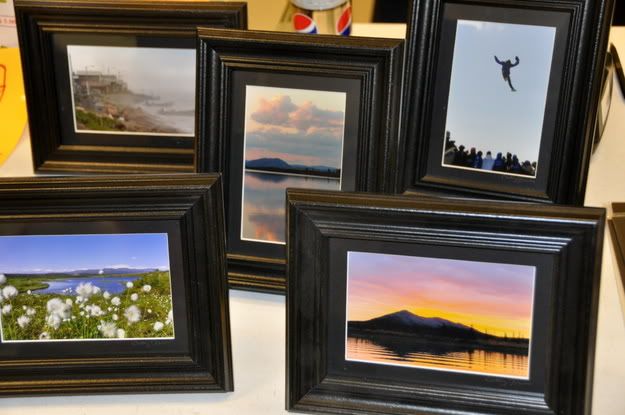 This is my table where I was selling some of my photos. Some of them were framed.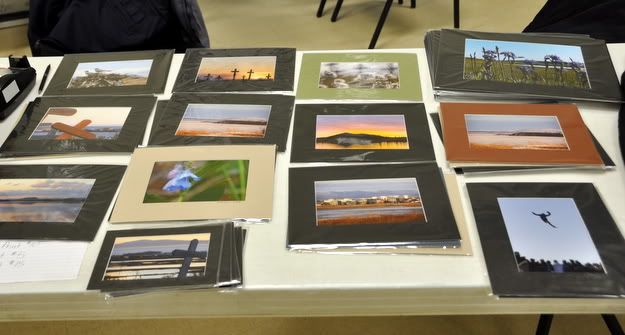 I only had a few frames left so mostly I was selling matted photos. I am going to pick up some more frames in Anchorage this week.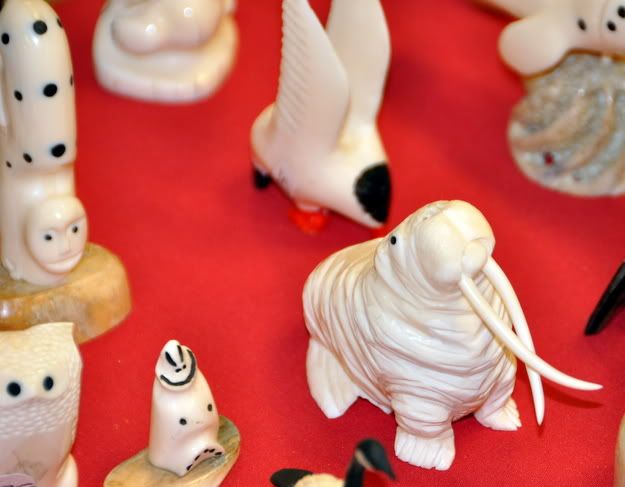 There was artwork made with walrus ivory, mammoth ivory and baleen.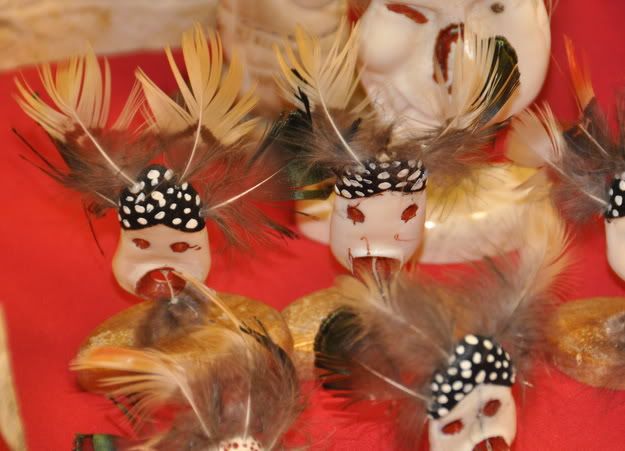 These were interesting little fellas.
And beautiful earrings.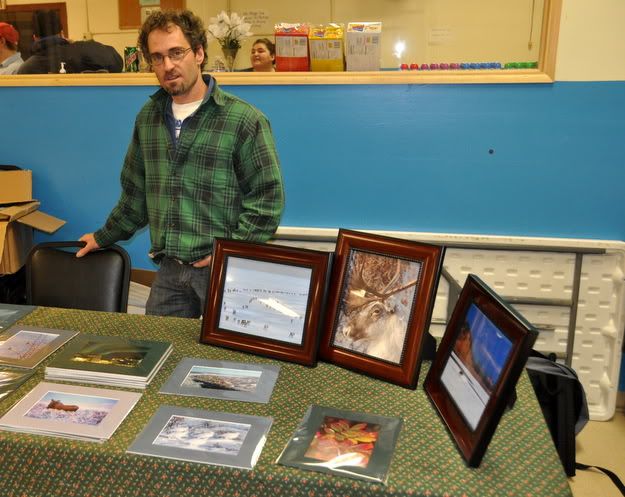 Seth Kantner
was there selling prints also.
He was also selling copies of his books,
Ordinary Wolves
and
Shopping for Porcupine.
You can check out some of Seth's other writing at
Dispatches From the Edge
in Orion Magazine online.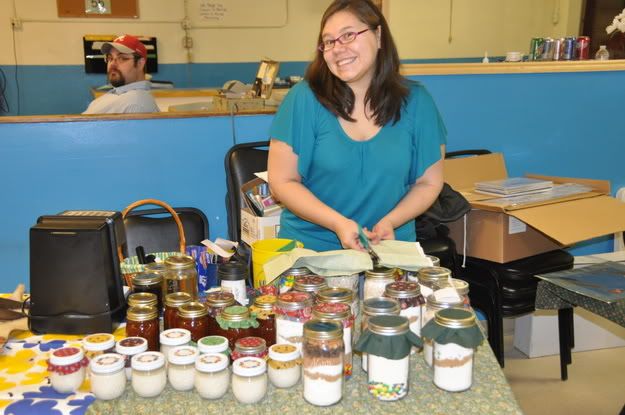 Maija
was selling sourdough starter, homemade BBQ sauce, and jarred cookie mix.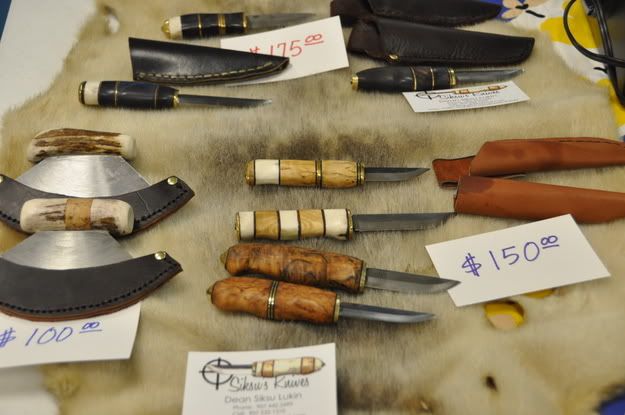 She was also selling knives that her husband, Dean, makes.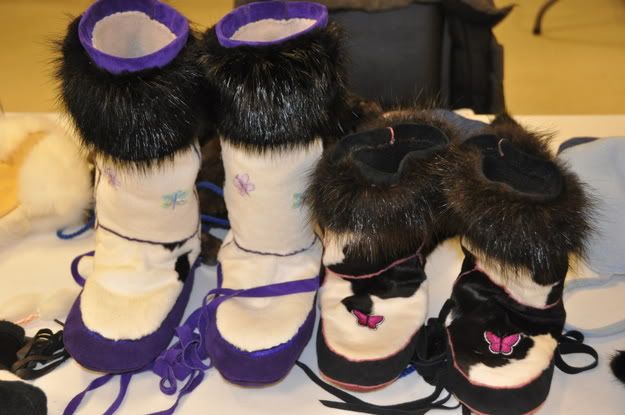 Beautiful handmade mukluks. The pair on the left are made with black and white calfskin, purple suede leather at the bottoms and tops and black beaver trim. The smaller pair is also black and white calfskin and it has black suede and brown beaver. They each have beaded accents on them. Very cute.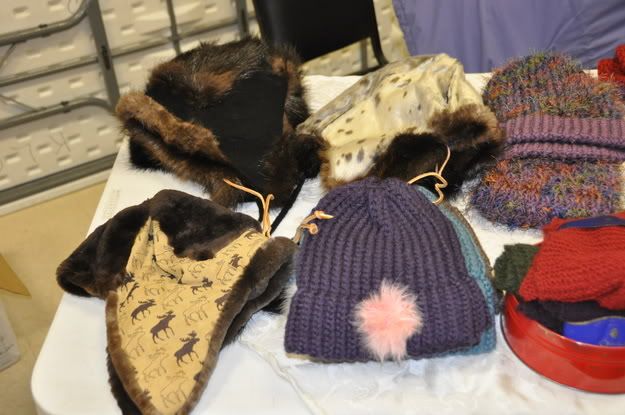 Here are some nice hats. The one with the moose on it has sheared beaver which is sooooo soft.
Here is Uyaana and his best buddy, Max. Max is Maija's stepson. He and his twin sister Maddie come up for Kotzebue for school breaks and summer vacations. When he is here he and Uyaana are always together. They both speak fluent Pokemon.
This baby was so cute I had to take her photo.
Next weekend is the Catholic Church Holiday Bazaar which runs for two days.
.