.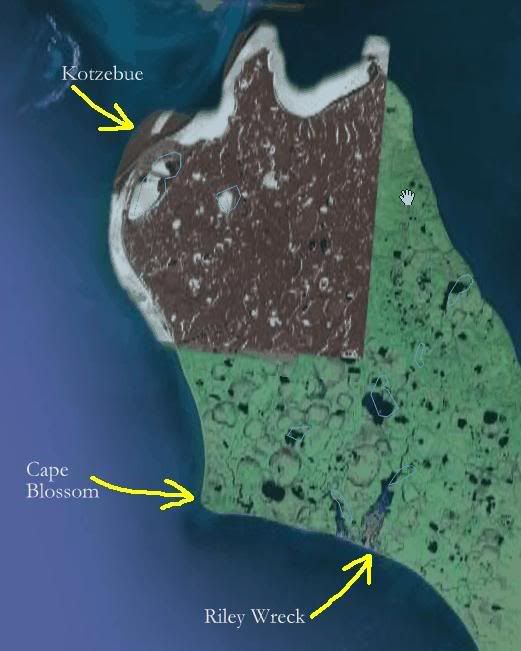 Here is a screen shot from Google Earth that shows the Baldwin Peninsula and part of Kotzebue Sound. You can see that I have labeled the locations on the map. The distance between Kotzebue and Cape Blossom is roughly 12 miles. The distance between Cape Blossom and Riley Wreck is roughly 6 miles.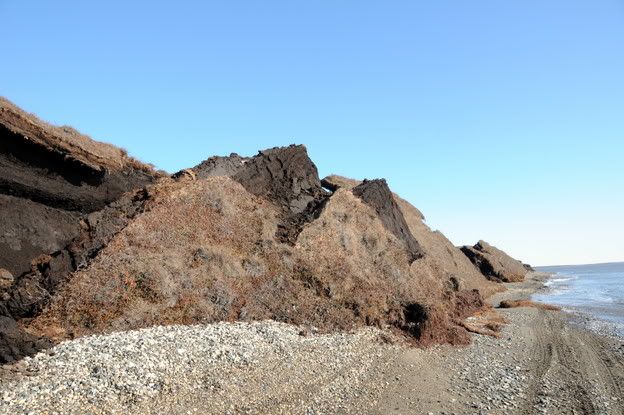 Here is another section of the shore where the waves undercut the bank melting the permafrost. Eventually the bank had no support and huge pieces collapsed. The water now laps right up against these pieces making it impossible to ride down the beach ion this section, except during periods of very low water. The water was so low this day I was able to ride right around. When the water is too high you can ride up onto the tundra and bypass this section of the beach.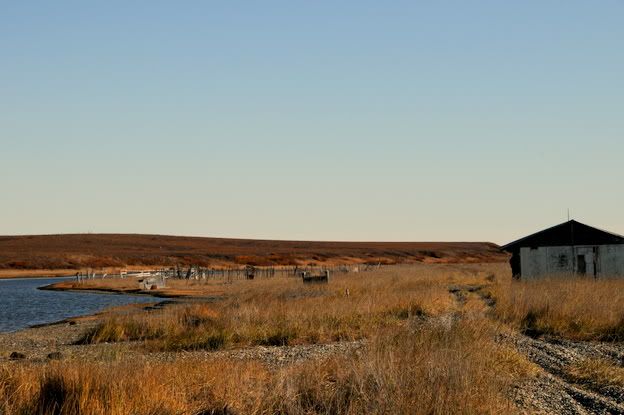 This is the shelter cabin and the old reindeer corrals at Riley Wreck. If anyone is interested in reading about the history of reindeer herding in Alaska you can click
HERE.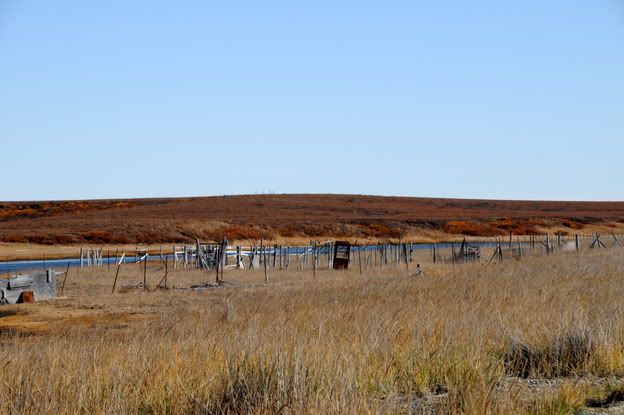 It has been a long time since these corrals have been used and they are staring to fall apart. I guess they call the name of this place Riley Wreck because there was a steamer, named Riley, that wrecked here many years ago. If someone knows the story please write a comment and let us know.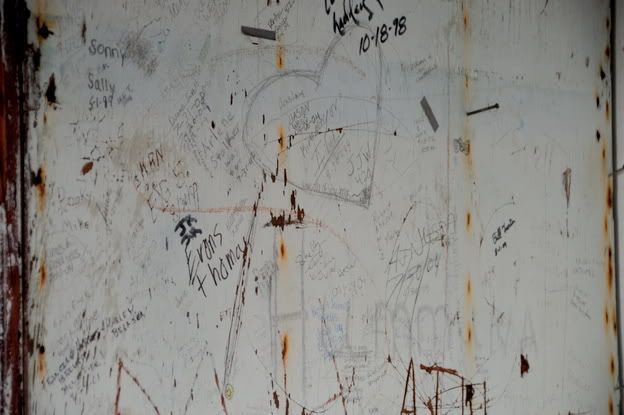 The inside walls of the shelter cabin are like a guest book graffitied with the names and dates of visitors over the years.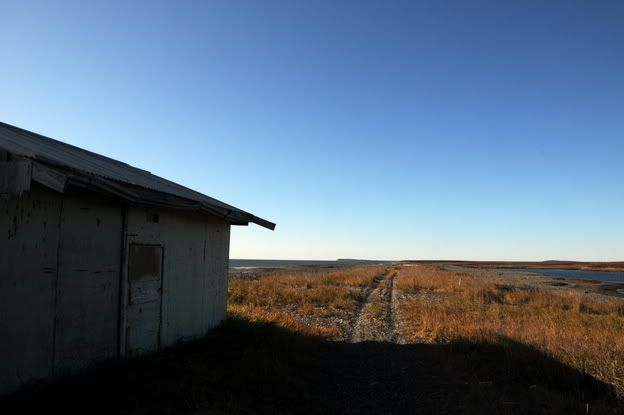 Looking back the way we came.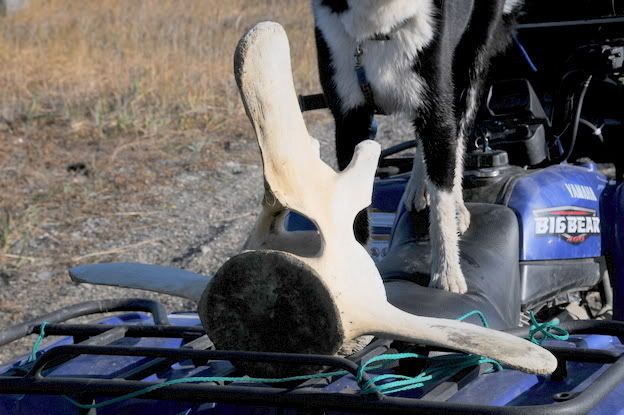 Back along the creek behind Riley Wreck I came across this whale vertabre. I put it on the back of the four wheeler to take the photo so you could see the size.
This just looks like a shot of the tundra...but there was something there that attracted Kaija's attention.....
...a flock of these little birds. Kaija jumped off the four wheeler and tried to catch some but they took off flying.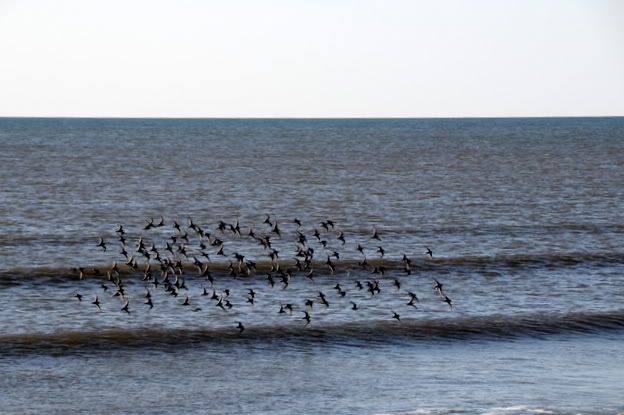 They would fly really fast and make 180 degee turns at full speed, never breaking formation.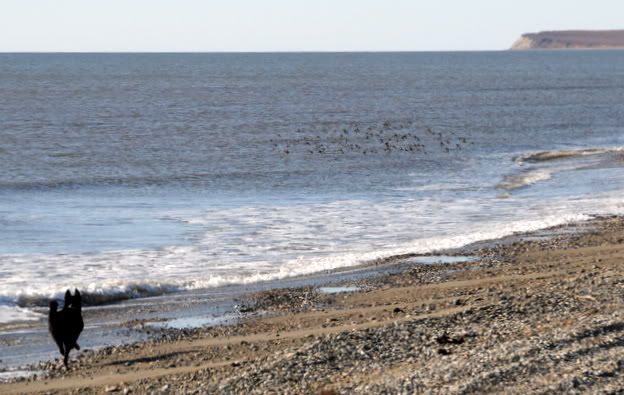 Kaija chased them as the flashed up and down the beach.
She never did get close. The birds reminded me of those huge schools of fish you sometimes see on documentaries.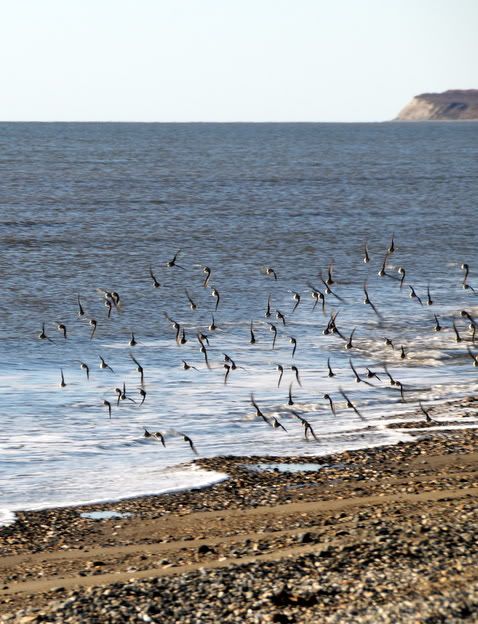 You know, the kind that swim together in big schools and they turn this way and that all at the same time.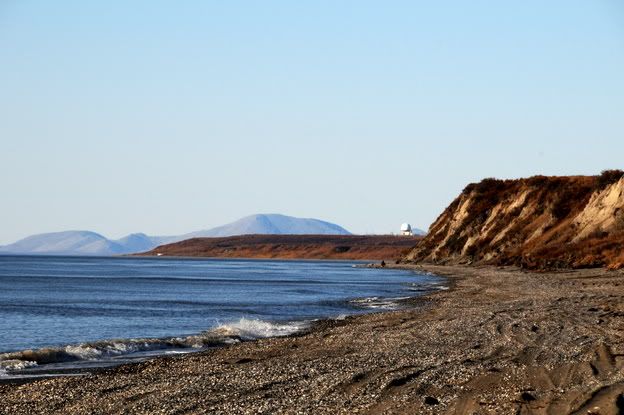 Almost back to town, few more miles.
.