.
Today I had my first ever pedicure. My friend Bree, in her never ending quest to tame my inner (and outer) barbarian, talked me into it.
"You'll love it" she said.
"But my feet are terrible" I protested.
"Just try it" she said.
"But I haven't shaved my legs in MONTHS!" I whined.
"They won't care" she said.
So with great trepidation I went to the nail place. I looked in and there were MEN giving pedicures. Hey, no one said anything about MEN looking at my hairy legs while shaving inches of dead skin from my gnarly feet. I almost ran away. Before I could wuss out Bree dragged me across the room and told me to sit in a chair.
Thankfully it was a woman who came out to do my pedicure. As she pared away at my neglected cuticles she was chattering away in Vietnamese and laughing with the lady working next to her. I bet they were making fun of my hairy legs.
She clipped and scrubbed and filed and rubbed and scraped and buffed and polished. She certainly earned her money on me.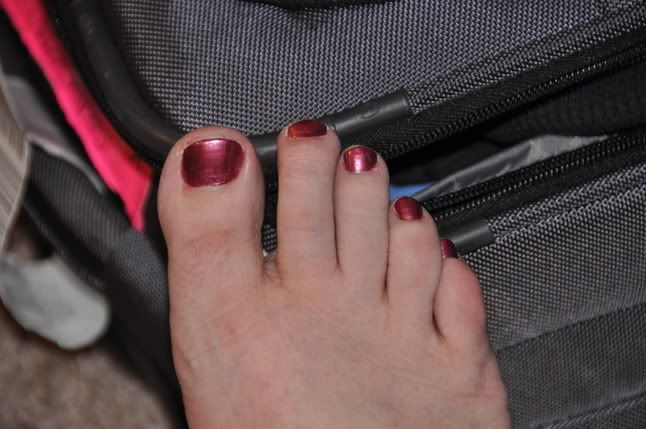 And here it is, the finished product. I think this is the first time I have ever had polish on my toes and I feel a bit ridiculous.
A friend said to me "You know you have to take that stuff off with nail polish remover? Do you have any?"
I said "No, I was just planning on letting it wear off over time like the barbarian that I am.
.