Today seemed like a busy day. Noah and I got up about 10am and decided to head down to the ice to watch the start of the Archie Ferguson Willie Goodwin Memorial Snowmachine race. There were about 50 or so racers this year...the first time there have been that many in a looong time. It was nice to see the numbers back up.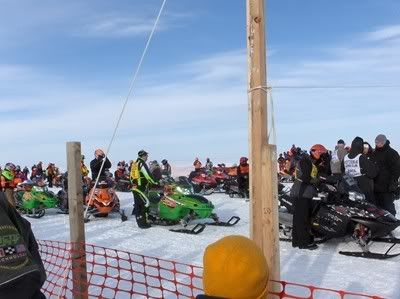 After the race Noah and I took a ride up Cemetary Hill to take Kaija for a ride.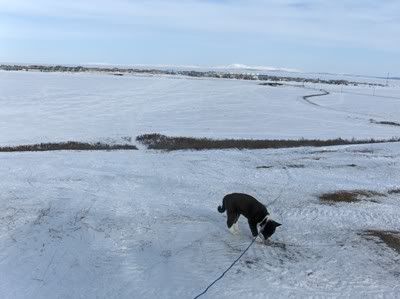 We didn't stay long because Noah wasn't feeling well and wanted to go home. Poor Noah has been sicksince monday evening and hasn't been in school since Monday. Tuesday night his fever was 103.7 and if the tylenol wore of it would keep going back up, and he had a bad cough. I took him to the clinic on wednesday evening. They checked his ears, gave him a Strep test and said he had "The Flu". The fever kept with him all week til yesterday he seemed to be feeling a bit better. Then today after we got home from our ride he said that he wanted to go to bed....it was 1pm. About an hour later he comes down and says that his ear hurt. Sooooo...I took him to the ER and sure enough he had a wicked ear infection in the ear that the tube fell out of. That's the second ear infection in that ear in 2 months. I have a feeling that he will have to get another tube in that ear.
The weather has been pretty good. Not too cold, but not too warm either. Yesterday it was about 28 degrees. Today it was only about 25 or 26. Tonight it is supposed to snow and get windy for the next few days. Haven't seen anymore tweety birds out, that chickadee was just a tease. I want to go fishing but Noah has been so sick this weekend that we haven't gone. We usually fish for Sheefish this time of year through holes in the ice. For those of you who don't know what a Sheefish is a picture of Noah last year, 3-19-06, with his first Sheefish that he caught
and here is a website where you can read all about sheefish...
http://www.adfg.state.ak.us/pubs/notebook/fish/sheefish.php We usually fish through holes that are 10 inches in diameter and sometimes the sheefish are so big you can't get them up through the hole and you have to try and shake them off your hook.
For any of you that might be bored check out the links on the side of my page. The city of Kotzebue website has hundreds of pictures from around Kotzebue that are fun to look at.