On March 30th my new Karelian Bear Dog puppy, Kaija (pronounced kye-yuh) arrived from Soldtna, AK. Her dad is Eska-Mo from Bearunoff Kennels http://www.bearunoffkennels.com , and her mom is Bearunoff's Nanna Kneeka. Kaija is a beautiful puppy as you can see here.....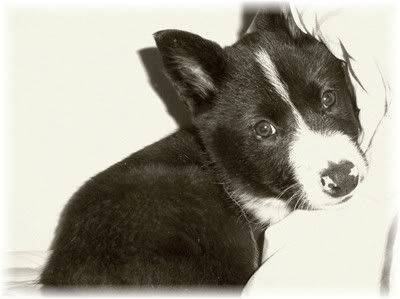 Uyaana is in heaven with two puppies. He enjoys laying on the bed with Kaija and watching tv.
She is a really good puppy. She does have some accidents on the floor, but I take her out regularly and it doesn't happen that often.
It has warmed up quite a bit. This weekend has been our first taste of spring, although it is in the form of a mini blizzard. It sure beats the last month straight of 20 below zero. Here's today's weather....

So that's all that is going on at the moment. We are all well, work is good, Uyaana is doing well in school and we are all looking forward to more springtime weather.