During the 2nd week in June of this year I took a trip to Point Hope to go to the Whaling Feast. Point Hope, also known by the Inupiat name Tikigaq, is located 180 miles northwest of Kotzebue on the the Chukchi Sea. It is one of the oldest continuously inhabited communities in the Western Hemisphere. This is still a whaling community that hunts the bowhead whale in the spring and fall. Landing a whale is one of the most important community events of the year. If they are successful, the whaling captains hold a Whaling Feast in June to share and celebrate their success.
I meant to post these pictures a long time ago but keep forgetting, so here they are.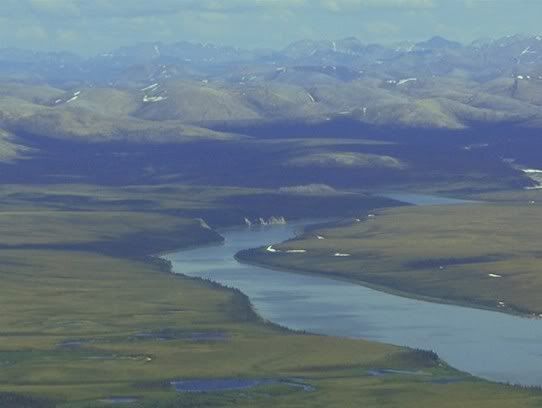 This is a small canyon on the Noatak River. On the way to Point Hope we flew to the village of Noatak first.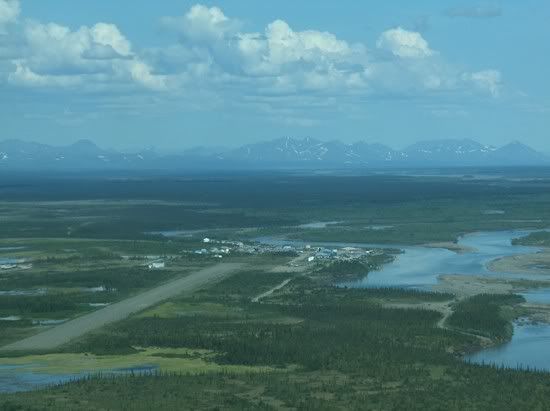 Here is an aerial of the Village of Noatak.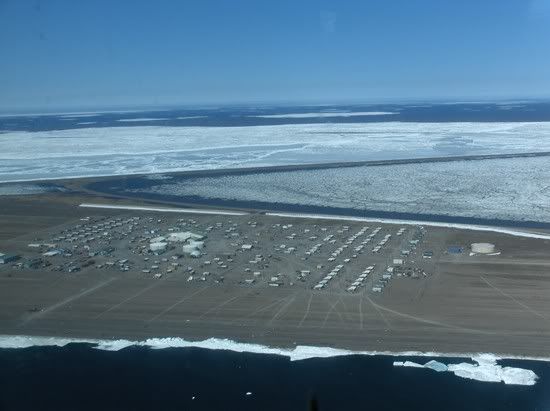 This is an aerial of the village of Point Hope. The village was relocated to this site in the 1970's. The previous site (a couple miles away) was having erosion problems.
Here's a picture of some guy's mukluks.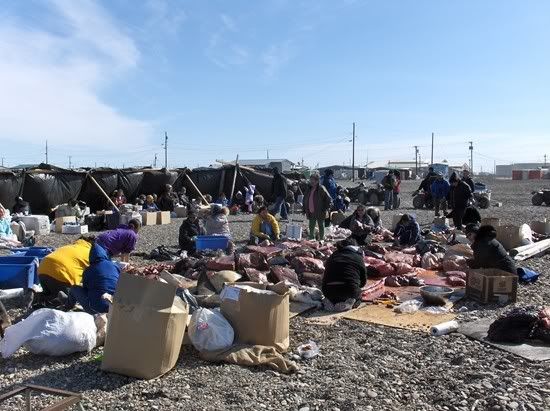 This is where the whaling feast is held. People sit along the wind break on the left. In the middle there are pieces of plywood layed out. On the plywood are piles of bowhead whale meat and muktuk, beluga muktuk, ducks and geese, whale kidney and intestines,walrus and seal meat. Attending to these delicacies are an army of women. The pieces meat and things are cut up into chunks and boiled in huge pots over wood fires or camp stoves.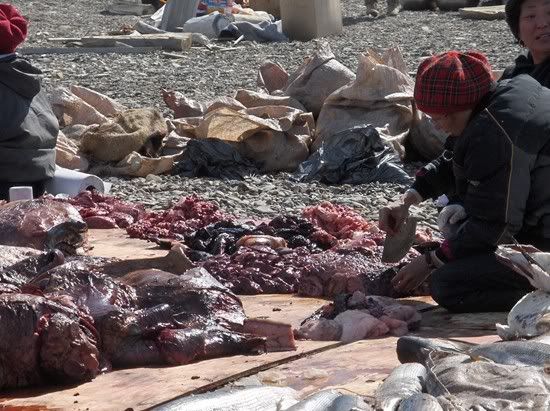 Here is a closer view of a couple of the ladies preparing the food. For those of you who I know are going to ask...yes I love eskimo food.....well a lot of it anyway. I like seal meat, and whale meat, both beluga and bowhead muktuk. I don't like whale kidney, but then again I don't like ANY kidney, that goes for liver too. Walrus is ok, but it's pretty strong. I like boiled intestines, whale or seal. Come on now, don't knock it til you try it
Here are six drummers drumming. Lots of eskimo dancing going on. I have some videos that I will try to upload to youtube, but no promises. My super slow arctic internet has a heart attack almost everytime I try and upload videos.
This is a photo of the blanket toss...AKA the eskimo's favorite way to break an ankle. During the blaket toss a large peice of walrus (i think) skin is used to toss people up in the air. You get three tries. The object seems to be to go as high as you can and land on the skin on your feet. Gently up and down, one, two, three, and then one big heave up in the air. If you land on your feet all three times everybody starts tossing you up and down as fast as they can til you fall down. During another part of the blanket toss they throw things. The whaling captains buy things like candy, skeins of yarn, pieces of sewing cloth. A girl holding some of these goodies is put on the blanket and then thrown in the air. While in the air she throws the stuff at a group of women over the age of 65. They do this over and over again. It's lots of fun to watch these little old ahna's scramble around trying to get the most loot. They really get scrappy when the girls start throwing wolf and wolverine skins at them.
These are photos of the old Point Hope village, the one that was abandoned/moved during the 1970's.
This is Purple Mountain Saxifrage. It is all over the place in Point Hope in the spring.