I actually got 5 comments on my birthday. Wow. I was impressed. It was nice to see some evidence of the people who filter in and out of the blog. Don't get me wrong....I know your there. I see the hits on the site meter and wonder, New Zealand! Who the heck in New Zealand would be reading this??? I've gotten hits from all over.Texas, Utah, Illinois, NY, Japan and various assorted Canadian Provinces just to name a few. Rio De Janeiro??? Holy cow. I guess I just never thought I was all that interesting. I know it's the pictures. It's hard to take a bad picture of Alaska. One lady who stops by said that although I am charming and witty,
she doubts she would stop by as much if I was posting pics of downtown Des Moines, Iowa. Hahaha...you gotta love honesty like that! This photo of Des Moines is for you, coffeedog. I can't take credit for the photography though because even though I think I have driven through Des Moines, I'm pretty sure I slept through it.
So for the sake of those of you who come here for the pictures and not because you feel obligated out of family duty, here is more of the same.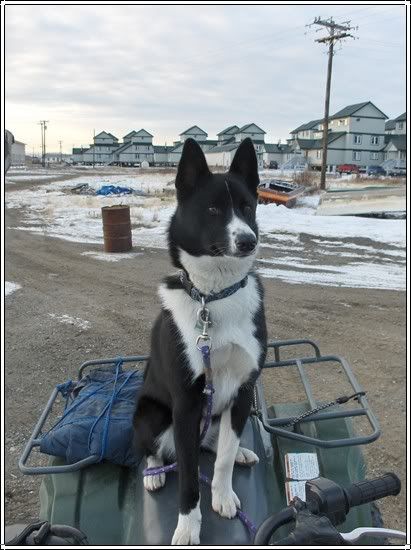 It was a nice evening so I decided to take the dog out on the 4 wheeler so that she could run around out on the tundra.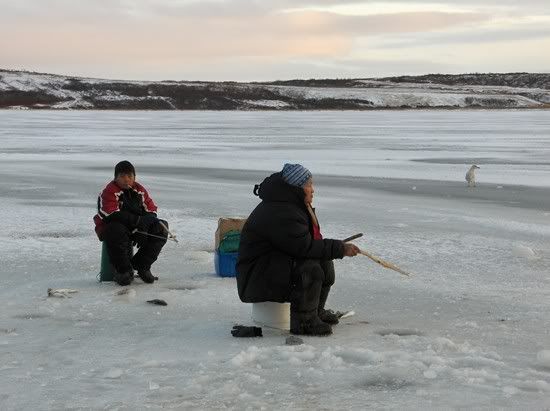 On our way out behind town we stopped by the lagoon to check out the people jigging for tomcods. I thought I would walk out to them and take their picture and a couple pictures of a tomcod for all of you who might not have any idea what kind of fish that is. You see those holes they are fishing in. As I was walking toward them I could see the water sloshing up and down in the hole. The ice was bouncing! Suddenly I remembered my rule about bouncy ice and decided that if you all wanted to know what a tomcod looked like you could look it up on google.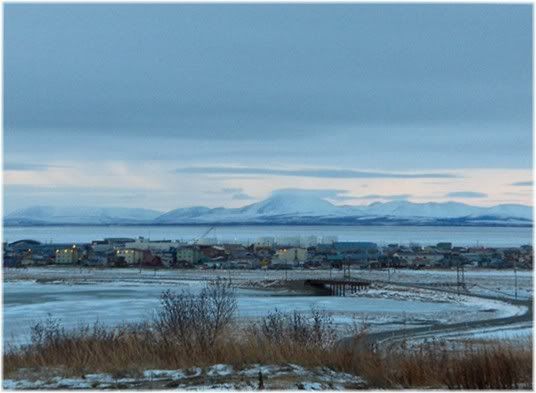 It turned out to be another beautiful evening for a sunset. We took a ride up to cemetery hill which has the best view of town. I know it doesn't look much like a sunset but turn a bit to your left and....
Wa-lah! The sun is starting to set.
I took some pictures at the cemetery but this was the only one that was half decent. I sat and watched the sunset while Kaija ran around.....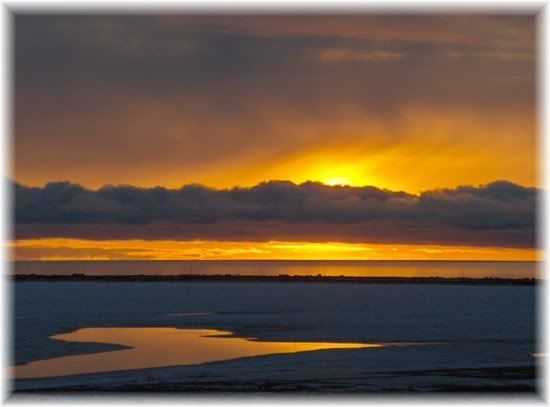 until it was time to go home